Toki Tori Dev Goes Out With A Bang In Rive
Going out with a bang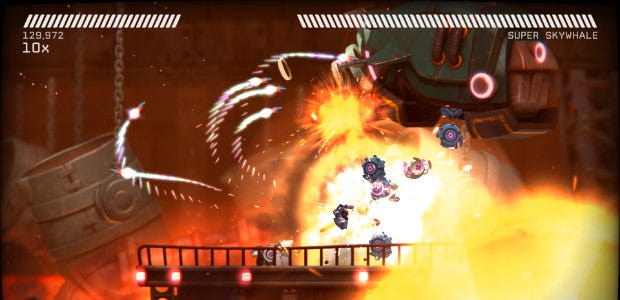 Toki Tori creators Two Tribes released their very final last game this week, the explosive shooter Rive [official site]. They're going out in a blaze of glory, as Rive revels in bright and beautiful wholesale destruction.
Rive puts you in the shoes of scrappy space scavenger Roughshot, who's trapped on a starship. The main goal is to engage in a glorious series of acrobatic fire fights as you blow up everything in your path, or hack robots and turn the starship's defenses against it. It's very fluid and flashy, and if you've got a competitive streak you'll be pleased to know there's a speedrun mode and leaderboards.
Two Tribes has been struggling with financial woes for a while. Back in 2014, the studio laid off most of its staff before restarting anew a short while later. While it's sad to see a little indie studio succumb to economic hardship, their final game is clearly a work of love. Two Tribes reflected on their departure in a statement:
"This morning, the realization set in that today truly marks the end of an era, and that a lot is riding on the success of Rive. If it fails, it won't be because we didn't try. Rive is the best we can do, it's what all of our actions these last years have lead to, to us it's perfect! We hope you enjoy the hell out of our baby!"
And so with that, we bid Two Tribes farewell and wish them the best in their future endeavors. You can find Rive for Windows, Mac, and Linux on Steam, reduced until September 27 to £9.34/€12.74/$12.74.