Maths and Mechs: PC Games At UK Retail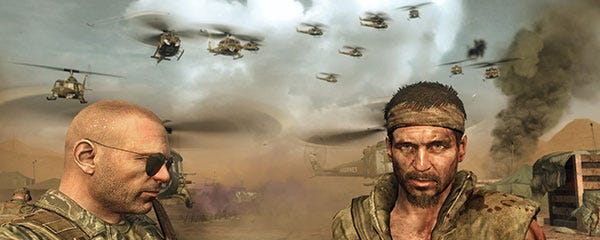 This strikes me as the kind of thing we should be doing weekly, as context is strength. While Chart-Track's weekly list of the best-selling games in the UK doesn't yet encompass digital sales - this is yer olde worlde boxed copies only - it does at least give a sense of what is selling to those brave souls who still venture outdoors, and perhaps more importantly we can look at the blatant holes. For instance, last week we had online-only indie game Fate of The World celebrating on Twitter that "we're are in the top seller pages of each of our categories on Steam", but obviously that's not going to create even a ripple on the retail chart. Still, here is said retail chart. It's an interesting beast. You'd better hold my hand, though. Where we're going, we need maths.

Right, here you go. This is chart-placings in the UK only, at retail only, for PC games only last week. Figures in brackets are the previous week's positions.
(-) 1 DAWN OF WAR II: RETRIBUTION
(-) 2 RIFT
(1) 3 FOOTBALL MANAGER 2011
(2) 4 THE SIMS 3
(3) 5 THE SIMS 3: LATE NIGHT
(6) 6 WORLD OF WARCRAFT: CATACLYSM
(7) 7 CALL OF DUTY: BLACK OPS
(9) 8 WORLD OF WARCRAFT: WRATH OF LICH KING
(4) 9 BULLETSTORM
(10) 10 CIVILIZATION V
(5) 11 DEAD SPACE 2
(8) 12 STARCRAFT II: WINGS OF LIBERTY
(11) 13 THE SIMS 2
(13) 14 FARMING SIMULATOR 2011
(20) 15 EMPIRE & NAPOLEON TOTAL WAR COLLECTION
(17) 16 MEDAL OF HONOR
(16) 17 FALLOUT: NEW VEGAS
(14) 18 FIFA MANAGER 11
(-) 19 ARCANIA: GOTHIC 4
(15) 20 DRAGON AGE: ORIGINS - ULTIMATE EDITION
FARMING SIMULATOR 2011 FTW.
Anyway: no huge surprises for the number one, while the prevalence of Sims and Blizzard titles ain't exactly a shocker either. It's worth noting that the only PC-exclusive and predominant of these titles to feature on the all-formats top 40 are Retribution, Rift, Football Manager 2011 and The Sims 3. The latter shares a more recent console release, however.
I don't have sales figures for any of these, but I am not convinced sales figures are spectacularly high. I can prove this, to some degree. While Chart-Track do not release sales figures, they do note weekly percentage increase/decrease in sales for most all-formats top-ten titles - and after 15 weeks on sale Black Ops remains number 6 in the all-formats chart despite having sold -85% in its second week on sale, a further -42% in its second, -6% in its third, + 2% in its fourth, +3% in its fifth, +13% in its sixth, -45% in its seventh, -60% in its eighth, -35% in its ninth, -15% in its tenth, +11% in its eleventh, -12% in its twelfth, -14% in its thirteenth, a whopping +192% in its fourteenth (half-term week in the UK, not coincidentally) and -54% in its fifteenth.
Maths time. Black Ops was publicly revealed (as far as I can tell with Activision's blessing) to have sold 2 million units across all formats in its first week on sale in the UK, according to a statement from UKIE/Chart-Track in November. Based on that, second week sales were 300,000; third week 282,000; fourth week 287,640; fifth week 296,269; sixth week 334,784; seventh week 184,131; eighth week 73,652; ninth week 47,874; tenth week 40,693; eleventh week 45,170; twelfth week 39,749; thirteenth week 34,184; fourteenth week 99,817; fifteenth week back down to 45,916.
So: Call of Duty Black Ops sold 45,916 copies on all formats lat week, and that was enough to keep it in the top half of the top ten. What does that say about the rest of the chart? The number 1 PC retail game, Dawn of War II: Retribution made number 17 in the all-formats chart. I have no idea what the sales gap between it and Black Ops in the top 5 was, but I'd be willing to bet it's significant. I just hope it's still five figures.
I'd also be very willing to bet that it's dramatically outpaced by digital sales - it's the current strategy number one on Steam, and apparently number three in all genres. I see absolutely no reason to worry and wail, because I have complete confidence that online is where PC is at, and it's only growing, but I do see that retail probably isn't a happy place for PC right now. Still, huge congratulations to games that did make it into the all-formats top 40, despite retailers' clear preference towards giving shelf space and promotion to the big console titles. We'll show 'em what's what yet.
Oh - and Chart-Track and UKIE are currently working on offering a digital sales chart too. They're not at all ignorant as to its importance as far as I can ascertain, but I'm guessing it's proven tricky to get numbers out of the big players in that field.