Beautiful Brazilian Indie Game Toren Out Now
Out-o!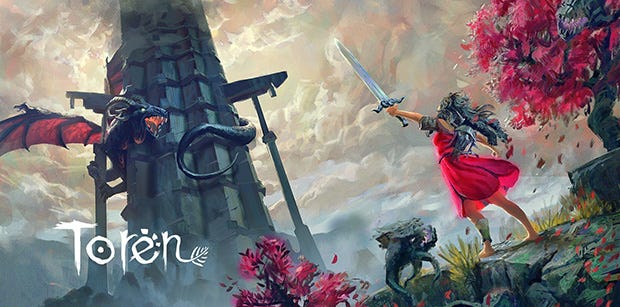 It's been quite a while since we last posted anything about Toren [official site], but in the time the game seems to have become more beautiful. And also more released.
You can get your grubby paws on the puzzle adventure right now for just £6.99 on Steam, GOG, and other places and begin your quest to the top of the tower. It's not just climbing steps, though. We're promised plenty of tricksy puzzles, along with more than a few skuffles with a certain black dragon guardian.
Developed by Brazilian studio Swordtales, Toren was a finalist for art and design at the Brasil Game Show, as well as receiving an honourable mention at the Independent Games Festival. Looking at it, it's easy to see why. Not only is it easy on the eyes, but it has more than a touch of Ico about it. Both graphically and in the way it plays.
From the trailer you'll get a gist of the story, which is adapted from ancient Brazilian myths, and sees the protagonist Moonchild attempt to cease an endless night. With a sword, obviously.