Totem Teller Gallery: Explore A Glitching Story World
Game looks nice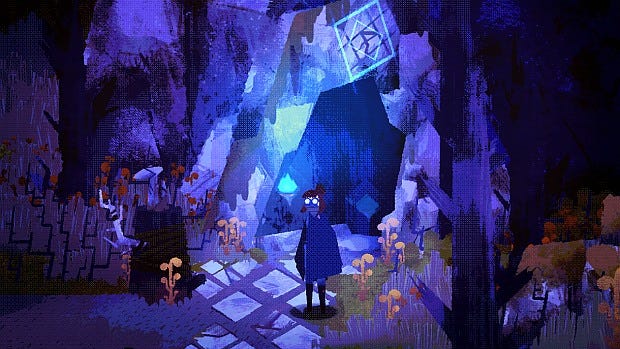 Totem Teller [official site] is a an open world story adventure for PC, Mac & Linux, the tagline for which is "Discover a broken world. Restore characters. Close plot holes. Truth is in the Telling." As of right now, you know almost as much as I do about the game. The part that I still know and you don't is that it is extremely pretty. You can close this knowledge gap by stepping inside and scrolling through some of its fine images.
To cycle through the gallery, just hit the arrows that appear above or below the image. They may move around a little but do not worry, they like to be clicked. Alternatively: withhold your affections and instead use your arrow keys to cycle through images. And of course, you can click the image directly in order to open it at a larger size.
Hang on a second, this isn't an image at all! It's an animated gif! Look at the lovely waterfall.
These images come not from the game's official site, which deals mainly in GIFs, but via its Tumblr. There are a few more shots there than I've included here.
The game's ModDB page (it is not a mod) meanwhile adds that you "Guide the Teller as she explores a world rendered from the last fading memory of a deteriorating story." So I guess it literally takes in place in a story.
I'm less interested in that than the look of the thing. It looks like someone spent the last 17 hours frantically building a world inspired by Alice's XCOM 2 glitch screenshots.
I wish this was a larger resolution so it could be my desktop wallpaper. I don't care that I wouldn't be able to make out any of the icons anymore.
Totem Teller is due for a teaser trailer soon, suggests its site. Until then I'm happy enough to imagine what it's like to explore.