He-Man & G.I. Joe Enrol In Toy Soldiers: War Chest DLC
I have the (purchasing) power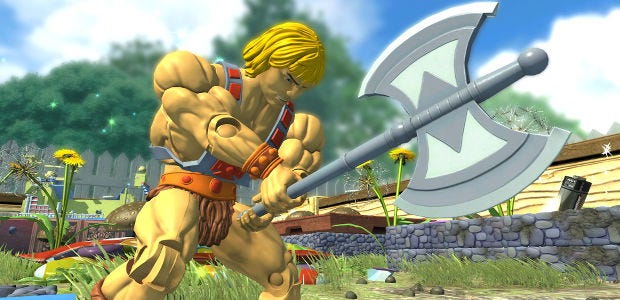 Who'd win in a fight between G.I. Joe and He-Man? Bizarrely, Toy Soldiers: War Chest [official site] may help you answer that question. Publishers Ubisoft have announced that the latest in Signal Studios' fun action-tower defence series will offer armies based on toys from when you were young, y'know: before everything went so wrong. Master of the Universes and G.I. Joe toys are the first two licensed armies announced, with another two still under wraps.
And now that you're interested, here's the kicker: if you want the licensed toys, you'll need to pay extra. I don't know what else you'd expect from a partnership between Ubisoft and Mattel.
The idea of having licensed armies joining Signal's four fictional toy lines is jolly exciting for a game about toys fighting, and I understand licenses are rarely free, but oh it's a bit of a disappointment isn't it? I never liked G.I. Joe (or Action Force, as the cartoon was named over here) so I'd gladly smash the twerps to bits. And in the game. I may have done that to some of the toys when I was wee one. I did like He-Man because he had a big green cat.
Toy Soldiers: War Chest is due this summer, priced at $14.99 (£10-ish), and I'll pick it up as I enjoyed the first two games. As for the licensed stuff... probably not. Individual armies will cost an extra $4.99, or $14.99 for the lot of them, or the 'Hall of Fame' edition with them included will be $29.99 - costing an extra cent more than buying separately. No thank you.