Universe Collides: Eve And Dust 514 Merge Tomorrow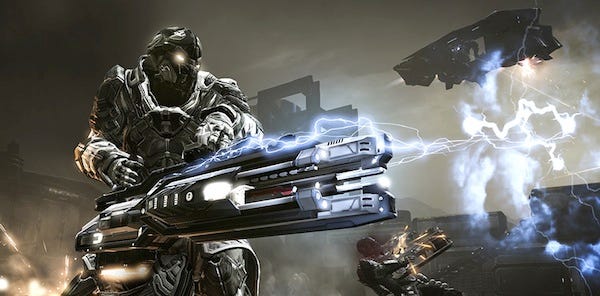 Yep, as CCP have detailed in this dev blog, after downtime tomorrow their console team shooter Dust 514 and their space MMO Eve will be a hybrid game, with players from both inhabiting the same world. CCP Nullabor explains: "...you will begin to see unfamiliar faces in local. They may look a little funny and talk about bizarre concepts such as tanks, grenades and "running around" but I promise they are as friendly as New Eden citizens can be and want to learn everything they can about this world you now both share." Moreover, corporations are going to be able to employ Dust folk as mercenaries to fight over planets in factional warfare, and then reap the benefits. It's a fascinating experiment, and I will fascinated to see whether it blossoms in the coming months. CCP still seem to be making a big gamble.
Lovely Dust trailer below.


Still amazed that it's on PS3 only, though. I don't get it. Honestly, it's baffling. They've explained it to my face, and I still don't understand.
*Points at PC platform, points at millions of players on Steam*.