Unmechanical Looks Pretty Mechanical, Frankly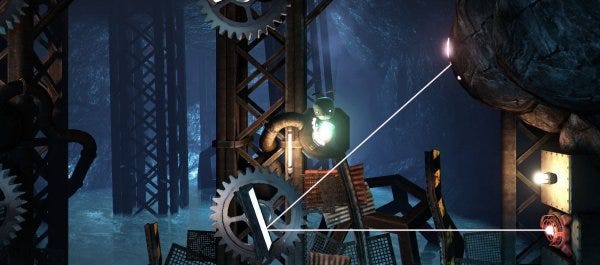 Talawa Games, developers of handsome-looking side-scrolling physics-puzzler Unmechanical, have sent word that they're teaming up with to the team behind The Ball, Teotl, to, well, develop Unmechanical. Obviously. They explain the premise of their new game like so: "Unmechanical begins with a twist of fate as you're spirited away by a network of coiled pipes into a mysterious underworld. You find yourself in a strange environment that pulsates from mechanic and organic machinery alike, and your journey to freedom begins. Flying freely through the odd and fantastic surroundings, a powerful tractor beam lets you pick up objects and interact with the world."
The game will be out on PC on August 8th, and on the iPad a few weeks after that. There's a trailer below with some of the most fantastic 3D company logos I have ever seen. Impressive.