Vaguely Does It: PC GTA V "Up For Consideration"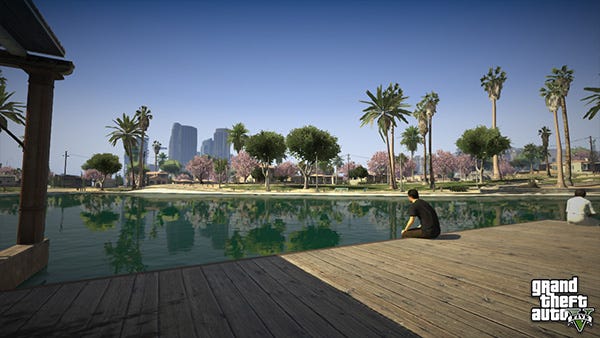 The recent torrent of marketing and marketing masquerading as news surrounding the latest GTA V trailer came with one unsettling ommission - any mention of a PC version of Rockstar's newest open world misanthropy odyssey. There's still no definite news of a release for the One True Format, but Rockstar have at least not ruled it out when the question was put them.

Speaking to IGN on the matter of formats beyond Xboxy and Playingstation, oft-elusive Rockstar VP and GTA writer Dan Houser offered only "Everything else is up for consideration. That's all I can give you."
He also stressed that Rockstar being unbeholden to a platform holder meant "we can do what we want wherever there's the appropriate business opportunity and chance to find a market. If that's on Apple we put something on Apple. Wherever it might be. I think that's the fun in what we do. We see ourselves as a content company that uses technology. We don't make it; we use it to make the most fun stuff."
So, we're not any closer to an answer than we were previously. I'd be surprised if the game didn't release on PC, but I suspect it won't be until next year at the earliest. If it doesn't arrive, that'd make it the first GTA outside of the portable ones that skipped PC - even though the mega-res, mega-anti-aliased bullshots released to promote the game reveal that at least some manner of PC build does exist.