Veni, Vidi, Voxel: Voxatron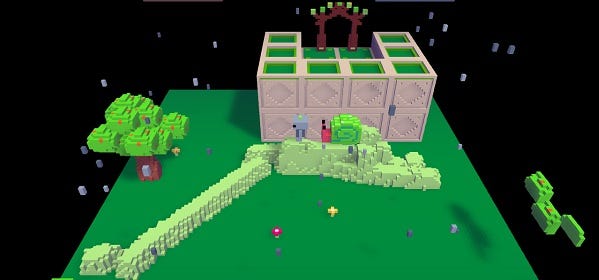 Some days it's hard to coax a smile out of me, usually because I've inadvertently pondered the state of the world rather than concentrating on my cocoon of make-believe. There were moments this morning when I thought this might be one such day and that I'd end up typing furious screeds about every terrible piece of news I could find. But the I saw the new trailer for Voxatron, which made everything seem just fine. Better than fine. We've had our eyes on this for a while but this is the first new footage since April and it comes with the announcement that the alpha will be available soon for anyone willing to preorder. Take a look.
That really hits the spot. The bit with the lava at the end? Exciting! The part with the sword that brings back memories of hours playing Ant Attack? Delightful! The Voxel Man's twitching eye and bleeding nose? Confusing and frightening!
Along with destructible environments and groovy music, Voxatron will contain a full world editor. The alpha will be available "shortly" but the full version's release isn't fixed yet, as the game is expanding from an arcade shooter into a more ambitious adventure. The editor, which you can see more of here, should still allow for self-contained sessions of running, jumping and voxelcide.
Let's hope that's not my entire smile quotient for the day.