Hut, Hut, Vike: War Of The Vikings Out Now
War. What is it good for? (Vikings!)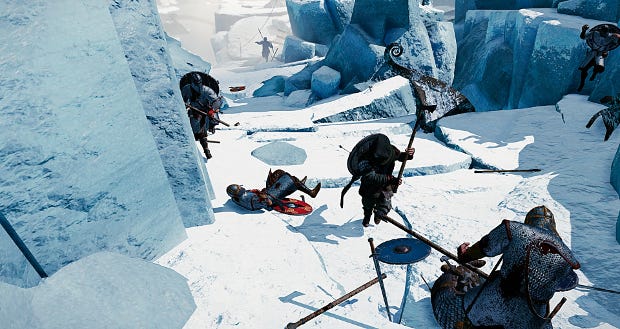 If history has taught me anything, it's that Vikings were a complex, multifaceted people splintered into an incredible number of micro-cultures spread far and wide across Europe thanks to extremely versatile wooden longboats. If videogames have taught me anything, it's that Vikings loved WAAAAAAAAAAAR. War of the Vikings, then, represents the culmination of all my scholarly studies, what with its "historically inspired" Viking Age setting and also maybe an ever-so-slight thumb-and-pinky pinch of WAAAAAAAAAAAAR. It's already taken its share of licks on Steam Early Access, and now it's "done," whatever that actually means anymore.
War of the Vikings is more or less a sequel to War of the Roses, which I actually enjoyed quite a lot back in ye olde day despite a number of rather serious flaws. War of the Vikings, then, is kinda like that only with more refined mouse-based sword-fu (with a dash of Dark Souls, according to Adam) and of course, Vikings.
I think I'll give this one a download right now, actually. While Chivalry definitely took the medieval warmongering crown (and throne, and complimentary air freshener) last time around, I felt like War of the Roses' systems were strong, even if the game surrounding them needed a fair amount of work. Who here played the Early Access version? Do you think Fatshark is off to a better start this time?