Warhammer Quest Is Coming To PC And I Must Write This
Based on the Games Workshop board game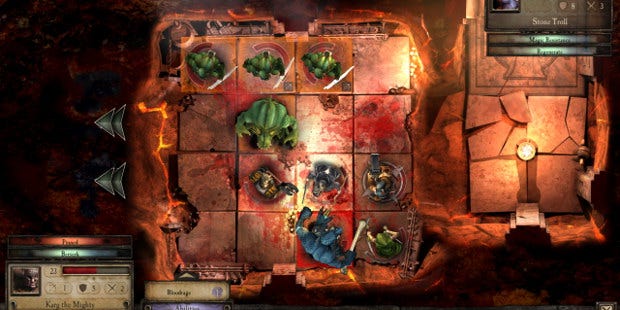 So many clauses of an RPS employment contract are written in blood that, honestly, you start skipping past them once you realised they're mostly harmless blood curses compelling one to e.g. substitute in "foot-to-ball" any time I try to write "foot-to-ball".
Those reams of sticky vellum must surely also contain something about Games Workshop games, as here I am writing about Warhammer Quest coming to PC in January, even though it's a port of a mobile game from 2013. Well, the blood curses are making me, and the fact that a quick look finds folks saying good things about the mobile version, aside from its microtransaction-o-rama.
Based on Games Workshop's multiplayer board game from 1995, Warhammer Quest is a singleplayer turn-based dungeon crawler. There are procedurally-generated dungeons filled with monsters and loot so you kill the monsters to get the loot, and killing monsters makes you better at killing monsters, which means you can fight nastier monsters.
These monsters include Skaven - a fact I imagine a clause inserted by Kieron compels me to state.
It'll arrive on January 7th, 2015 for Windows, Mac, and Linux on Steam. It'll cost £10.99 but have microtransactions selling new heroes to play as, extra weapons to wield, and skellingtons and necromancers to fight. A 'Deluxe' version with all those included will run you £19.99. It's a shame those shenanigans are carrying over to PC, but I suppose it's faithful to the tabletop game and its addon packs. Gentle urging to buy more is part of the core Games Workshop experience.
Not having an iThing, I've never played Warhammer Quest myself. How is it, gang?