Dogged: Watch_Dogs To Require Uplay, Even On Steam
Bullet (not) dodged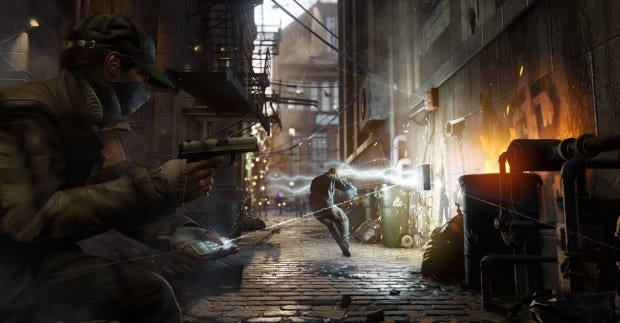 In an alternate dimension, we all love Uplay dearly and Valve won't stop shoehorning Steam into annual churned-out sequels like Left 47 Dead, Team Fortress XII: Right Back Hat Ya, and Half-Life: Pirates. In this one, however, that's absolutely not the case. Uplay is fiddly, sometimes catastrophic meltdown-prone bloatware that gates us from playing games until we've gone through an archaic activation and update process. And if servers happen to be down due to demand or some other mishap? Well, good luck. The service's worst days, I think, are generally behind it, but it's still a pain. Unsurprisingly, it's going to show up in Watch_Dogs, presumably to do the opposite of aidin' main character Aiden Pearce.
Ubisoft confirmed the news to IGN with a business-as-usual slant:
"Like some of our other AAA releases, including Far Cry 3, Splinter Cell Blacklist, and Assassin's Creed IV Black Flag, Watch Dogs will be available on Steam and will leverage Uplay to support the game's services."
A Uplay account and the Uplay client will, of course, be mandatory.
All of which is kind of funny given that this is a game about hackers rising up and overcoming The Man, but this is big business we're talking about. If you want wry acknowledgements of irony, probably go elsewhere. (Well, unless Watch_Dogs decides to take writing cues from big brother - but not that Big Brother - Assassin's Creed.)
I have to say, though, that I tend to err more on the side of sadness than anger when it comes to services like Uplay or Origin. As Alec wrote when all Uplay games ended up blocked on UK Internet service provider BT Infinity, this isn't some giant evil scheme. Rather, it's a corporate entity prizing control and flow of information/money over creating a good experience for its customers. In the grand scheme of things, I'm only minorly inconvenienced, but my stomach lurches a little every time I think of that priority list.