Watchmen: The Demo Is Nigh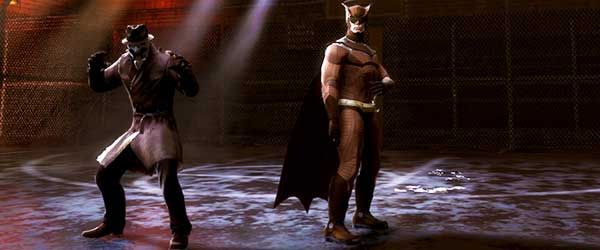 Meer's Journal, March 5 2009.
On Thursday morning, a literary classic died on my PC screen. Somebody threw its ideas out of a window, and when it hit the internet its head was driven up into its stomach.
Nobody cares.
Nobody cares but me. And thousands of other comic book geeks.

Are they right? Is it futile?
Soon there will be more of this. Millions of ideas will burn. Millions of proud creations will perish in sickness, misery and money-grabbing idiocy.
Why does one lazy videogame adaptation matter against so many?
Because there is good and there is lousy, and lousy must be punished. Even in the face of mildly annoying the game's developers and publishers I shall not compromise in this.
500-odd megabytes of Watchmen demo is now available for free from the magic internet. Previously, we've been a liiiiiiiiitle bit down on the idea of making a flashy brawler out of Alan Moore's superhero-deconstructing landmark comic, but perhaps we were wrong.
It seems this pays expert tribute to the themes of the book after all. It contains dialogue easily the equal of Moore's greatest lines: truly, "eat shit and die" and "fuck-face" are quotes for the ages. Meanwhile, it cleverly references the symmetrical, mirrored nature of so many of Watchmen's panels by smartly repeating the exact same environments and enemies again and again. And Rorscharch and Nite-Owl magically collecting new fighting abilities as they lurch through a thug-infested prison is a clear tip of the hat to the heroes' slow rediscovery of their confidence and moral outrage throughout the graphic novel.
This, surely, is the first videogame that could rightly be called a masterpiece.
Alternatively it's a brain-dead, charmless, repetitive, button-bashing, incoherent slice of overwhelming cynicism that we'd have thought poorly of in 1985. Quite pretty, though.
PS - according to my screenshotting program, Watchmen's engine is called 'Kapow.'