Wayne Good Deals: Latest Humble Bundle Is Positively Batty
BIFF, ZOTT, KA-CHING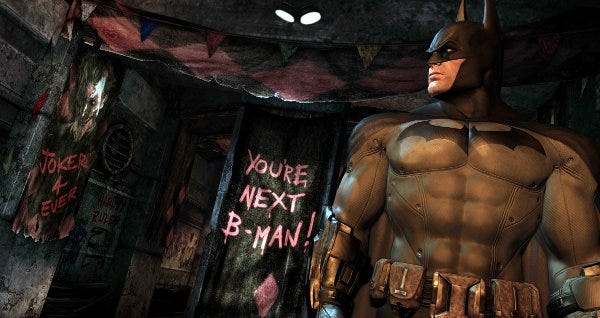 Bruce Wayne, billion dollar playboy who was recently declared Least Likely Man On Earth To Be Batman (Of The Year) by Time magazine, is at it again. He's teamed with a gaming storefront known as the Humble Bundle to sell games largely focused on Batman for no specific reason. The proceeds of a pay-what-you-want bundle that includes that likes of Batman: Arkham Asylum and Batman: Arkham City will go toward a sprawling tunnel-based weapons facility beneath Gotham charities and game developers.
The Humble WB Bundle (aka, the WBundle) is made up of Batman: Arkham Asylum Game of the Year edition, FEAR 2, FEAR 3, Lord of the Rings: The War in the North, and if you beat the average, Batman: Arkham City Game of the Year edition and Scribblenauts Unlimited. The charity this time around is, fittingly, We Can Be Heroes.
You'll be able to tune in to this bat-deal at the same bat-time on the same bat-channel every day until November 19th. Then it will come to an end, and you'll maybe possibly someday play the games you mindlessly purchased to sate your wailing deal lust. But probably not.
It's a shame some more recent games aren't included, but I suppose the likes of, say, Batman: Arkham Origins and Scribblenauts Unmasked did only spring into action this month and last, respectively. As with all things in this world, they too will be Practically Given Away at excellent prices, but not yet. As is, I have to admit that I already own all the games in this bundle. How about you?