What Is Best In Space: Kromaia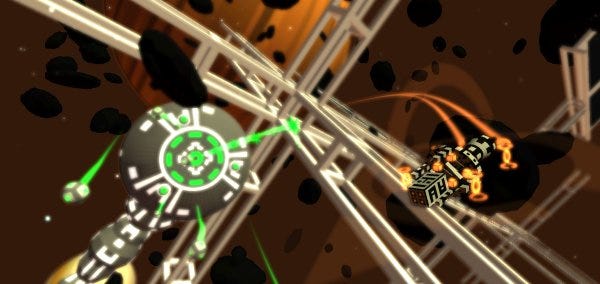 Superbly-named indie devs Kraken Empire have sent word that they are very busy working on a space-physics shooter, Kromaia. They claim that by introducing real-physics to a good control system, they are creating something really special for space combat. They say: "Our universe feels completely coherent because every object is physically modelled. As a result the game is really immersive as we were expecting from a game without interface that takes place in an extremely solid and coherent world... Making a black hole is not difficult by itself, but when you plan a battle between different enemies firing hundreds of projectiles and colliding with asteroids while all of them are attracted by the black hole…"
Yeah, we get the idea. PHYSICS! There's a video of the game in action, below. They're also looking for some testers. Go check out the blog for more on that.