Parp parp! The Crew 2 now racing to June
High-speed tourism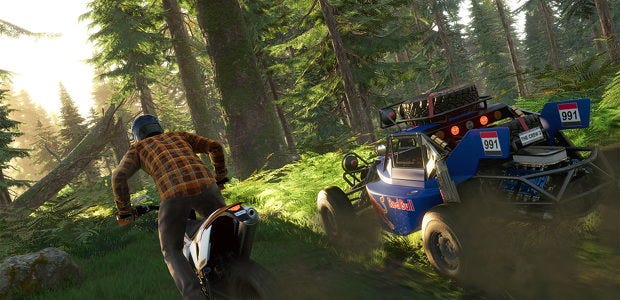 Ubisoft's racing game The Crew 2 is now due to launch on June 29th, Ubisoft announced today. It'll bring more open-world racing across a scale model of the USA, going by land, sea, and air in a range of vehicles - and sometimes changing vehicles mid-race. I'm a sucker for miniature countries and re-reading accounts of Adam and Brendan's cross-country race in the first game makes me quite keen to see this from new angles and new vehicles. Oh, and going fast and winning sound fine too?
The Crew 2 was at one point due to launch this Friday but the release date had been up in the air since Ubisoft delayed it back in December. Now we know.
Signups for closed beta testing are now open, if you fancy a crack and feel lucky. Players of the first game can also start earning vehicles for The Crew 2 by completing challenges.
The Crew 2 is due June 29th, priced at £50/€60/$60 on Steam and Ubisoft's store.
This here gameplay demo video is from way back in June 2017, so a lot could have changed, but I assume it still does all the bits I'm interested in: racing through parks and forests, over city rooftops, and down waterways criss-crossing the country. High-speed tourism, innit?