The Crew 2 plots first year of free content updates
Parp parp!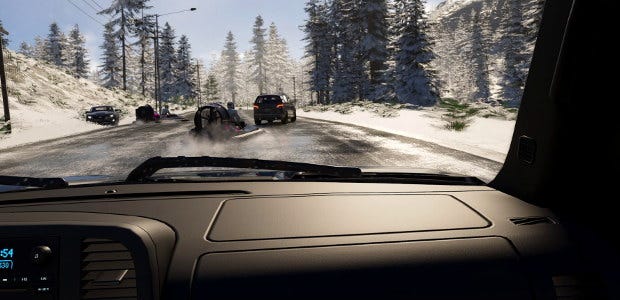 New modes and vehicles are coming to The Crew 2 in free updates, Ubisoft said today. With the drive-o-fly-a-sail racer launching later this month, they've started gabbing more about their plans for what comes after. Beyond the obligatory paid season pass gubbins, at least a year of regular free content updates will bring goodies from hovercraft races to loads of new vehicles. Generally I'm up for anything that will let me race hovercrafts through traffic on snowy roads like some Appalachian ruffian.
Ubisoft plan to add two new vehicles every month, and release bigger updates every three months. The monthly vehicle drops are just vehicle drops, while the trimonthly updates will bring a new racing discipline along with new features.
The first content update, named Gator Rush, will add hovercraft races on a variety of surfaces. It'll also bop in a new top tier of rarity for vehicle parts, though stuff you'll probably need to grind to get isn't nearly as exciting as hooning around on hovercraft.
The second content update, scheduled to launch in December, will include "a brand new PvP mode". Beyond that, Ubisoft aren't saying much. Stuff. Races and racebits.
The fact that Ubisoft talk about this initial plan as "Year 1" suggests they'll likely keep this up if the game does well, as they have with Rainbow Six Siege's years of content updates.
As for the season pass, it'll give early access to those monthly new vehicles, a special home, and other bits and pieces detailed over here. I can't imagine ever buying one of Ubisoft's season passes myself, but I like that they do now have free content updates accompanying them. The years of full-price games selling new stuff in playerbase-splitting DLC were terrible (though some publishers still believe that's somehow acceptable?).
The Crew 2 is coming to Steam and Uplay on June 29th. It will cost £50/€60/$60, though I'm told it's bundled free with flash Nvidia graphics cards.