Wizard! Wizardry VI, VII, and 8 Are Now For Sale On Steam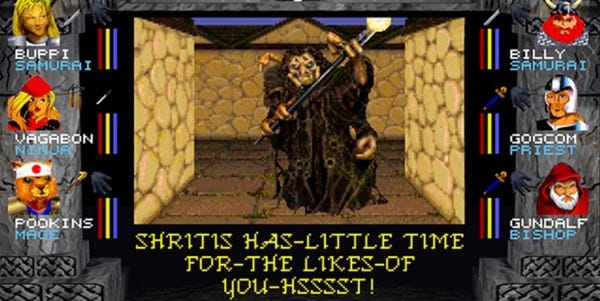 Night Dive, the people who managed to retrieve System Shock 2 from the abyss and release it once more, are back. And this time they've brought Wizardry VI, VII and 8 with them. All three are now on Steam, in working-on-a-modern-PC-versions. It's time to party.
It is to my everlasting disappointment that party-based RPGs so very rarely offer that promised party atmosphere. Almost never are there slices of cake awkwardly forced on people standing in the kitchen, wondering if they've been there long enough to make excuses to go home. When last did we see two characters from such a game drunkenly snogging in a dark corner in the back garden? And where are all the attendees being sick in the sink? It's just a tissue of lies.
Early enforcers of this deception were the Wizardry games, and 6-8 are frequently lauded by the olden, through their cobweb-covered mouths, as shining examples. And now you can pick up 6 and 7 for £3.49/$4.99, 8 for £6.39/$9.99 on Steam, or get all three for £9.99/$14.99. Here's a trailer for so-very-modern-looking 8: