World of Warcraft Classic is progressing/regressing nicely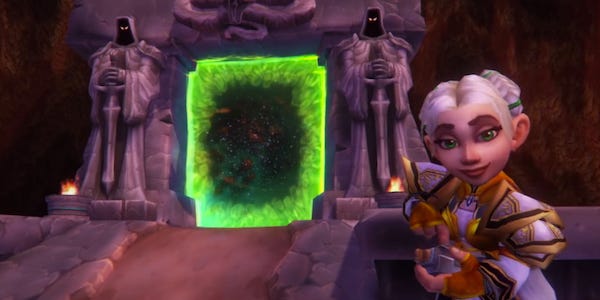 Blizzard has been working on launching World of Warcraft servers that just run a classic version of the game, back before all of the updates were added to the world... of Warcraft... over the years. It's an ambitious choice because it's not just about re-launching some early version of the game; it's about perfecting and updating a very specific slice of the game so that it will run well on 2018 hardware and engage with players in the same way that the most updated version of the game does. Today, we've got an update from the developer on how the World of Warcraft Classic restoration / anti-expansion is going.
Via an announcement on Blizzard's site, we now know which version of WoW the team has chosen to build Classic from:
As many of you have noted, the classic period was two years long and full of changes. Core features like Battlegrounds were introduced in patches after WoW's original launch, and class design similarly changed over time. After careful consideration, we decided on Patch 1.12: Drums of War as our foundation, because it represents the most complete version of the classic experience.
The team rebuilt some of the original code and has been rigorously testing this, during which they ran into issues with modern video cards, the log-in system for the game, and the advanced anti-cheating systems that have been built up during the course of the game's lifespan. Without sacrificing the millions of hours of testing that Blizzard has put into the game over the last 13 years, they've found a way to insert the original code into their modern code, and built a working version that's been through a few major prototypes already.
There's a lot of engineering specific data listed in the official post that shows off the challenges facing Classic. But why do this at all?
As Alice said in our initial coverage of the WoW Classic reveal:
While a lot of WoW's additions and changes over the years have been great, it has also made it a pretty different game. Modern WoW is a lot friendlier, a lot more streamlined, and feels less like a wild and dangerous place. It whips players through the original lands at breakneck pace to get them levelled up for the new parts, and some of those original lands are now greatly changed – or just plain gone. A lot of wanting that back is nostalgia, pining for the days that were and who we were then, but that wilder WoW was also more interesting in ways.
Check out the Classic Version WoWzers trailer below: