New Treatment: Worms World Party Remastered In July
Quelle surprise, more Worms!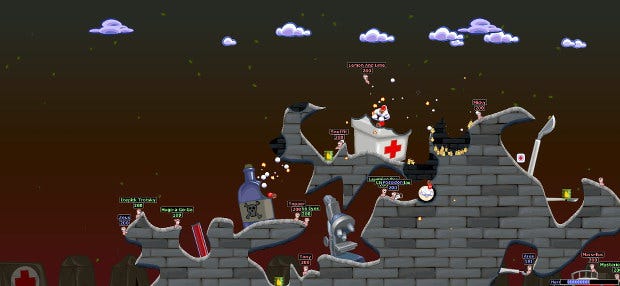 Which Worms game is your favourite? Over the last twenty years, creators Team17 have released more than twenty Worms games and spin-offs, but most folks I've known seem to favour either 1999's Worms Armageddon or 2001's Worms World Party (boy, the series peaked a while ago, huh?). If you're in the latter camp, good news: your favourite Worms game is being revamped!
Team17 have announced Worms World Party Remastered [Steam page], which is WWWP prettied-up with support for modern Steam bits. It's due to launch on July 8th.
Worms World Party Remastered will run in 1080p at 60fps (can you imagine! oh, the torment we've endured with low-def, low-fps Worms!) and boasts "enhanced sound effects", controller support, Steam leaderboards, and... you know, it's WWP but a bit newer. See for yourself:
It'll be on GOG too, though presumably without the Steam stuff.
Poor old Team17. They knew someone who had a really good idea twenty years ago and have been adrift ever since. The series' move to 3D was rubbish (as were most games eager to jump into 3D, to be fair), and their refusal to make anything but Worms games leads to everything new being judged against older, better games. Their recent non-Worm games have been things like Superfrog HD, a bad remake of their 1993 platformer, and Flockers, which they called an "explosive new IP" but turned out to be a Lemmings rip-off set in the Worms universe. I can only imagine the owner of Team17, who I believe to be named Ian17, suffered a nasty knock on the head in 2002 and time has never rolled on for him since. Or all this nostalgia-mining earns them enough money to keep on trucking. Probably that, actually. It has let them make a move into publishing some interesting indie games too.