Kick! Punch! Yatagarasu Attack On Cataclysm Due In July
Kieron Gillen's quivering palm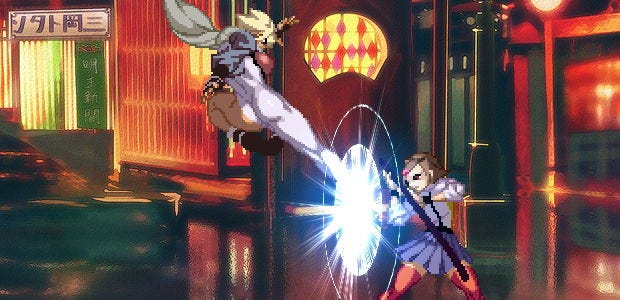 Legend has it that the fighting game-shaped hole in RPS was punched clean through by Kieron Gillen and his Wu-Tang style at a staff Christmas party in fury after everyone kept sniggering at his "quivering palm technique." Me, I've been trying to plug that hole in our coverage with newspaper, Protect Ya Neck scarves, and news like this post here.
Crowdfunded punch 'em up Yatagarasu Attack on Cataclysm [official site] is running over a year later than planned, but it finally now has a release date. The 2D fighting game made by a few former King of Fighters folks is getting a PC release on July 7th.
Yatagarasu Attack on Cataclysm is inspired by Street Fighter III with a touch of BlazBlue, with plenty of parries and counters. Always fun to watch, those. Online play is handled by GGPO. Interestingly, it has dynamic commentary recorded by fighting game community casters - and can switch between Japanese and English as you please.
Back in 2013, Yatagarasu raised $118,243 on Indiegogo to fund the localised PC release - almost twice its goal. It had initially been slated to launch in February 2014, but things happen. Yatagarasu will cost $14.99 (£10) on Steam and is due on other digital distributors later too.
As all its official trailers are rubbish, here's some off-screen Attack on Cataclysm footage from a tournament at EVO last year: