Eerie Late-Night Public Access TV - 2:22AM
Dream a little dream for me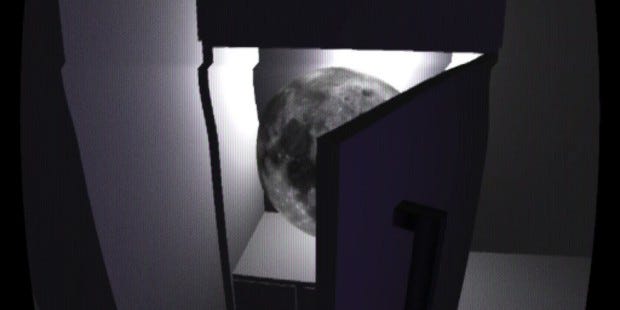 "Play alone," 2:22AM instructs. "Play at night."
Approach in that dreamy state of mind and it flickers into life, drawing you into an eerie late-night public access television show. 2:22AM's a free game made of little vignettes from mundanities like frying an egg to, well, things more surreal and sinister, mixed with bleary video clips and wrapped up in analogue crackle and tracking errors. It's wonderful to play in that time when the world's still and blinks are drawn-out rests for your eyes, dreams creeping in around the edges. But if you're too drowsy for that, the wonders of video mean you can watch me play.
2:22AM is made by Alice Lai, the designer behind Text And Drive, which we've enjoyed before.
I've found a different dream each time I've tuned into 2:22AM since Warp Door spotted it. While some sequences and videos are fixed, as far as I can tell, other slots in the 20-minute program are filled with a random selection from a larger pool. Some parts are different between appearances too, small variations or dragging a realistic scene into the fantastic. I like that. I had not expected to find the Moon in my fridge. Lai also put varying parts into Text And Drive; I liked that too.
Here's the last programme I watched at 2:22AM. Alone. At night. And a bit tipsy. I'm somewhere between 'acting' and genuinely drunk and moony. I'm told this is New Games Journalism yeh?
It feels like we're seeing more games that shoot for sinister and uneasy through tone and disorientation rather than boring old 'horror' with death and jump scares. I'm glad. I'm also pleased to play dreams which feel more like actual dreams: snippets and mashes of images and sounds and feelings and illogic rather than e.g. platforming on trails of blood.
2:22AM was made in a month-long game jam themed around public access TV, held on the the Something Awful forums. The rest of the entrants are over here, if you fancy a peek. You'll get to create your own shows, host a cooking show, and play a basement sport of throwing stuff into a paddling pool, which is unexpectedly fancy and has great voiced commentary.
(Living in England, my understand of public access TV comes from Wayne's World and Mystery Science Theatre 3000. This all only makes it seem more magical.)