A Good Gardener Is A Lovely Wartime Grow 'Em Up
Help the war effort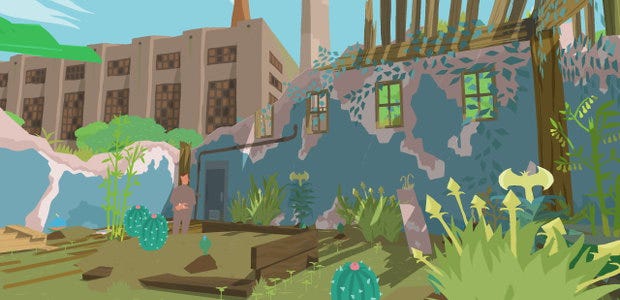 Planting seeds in a ruined home, returning each day to water them, chase off hungry birds, pluck weeds, and watch your plants grow is delightful in A Good Gardener [official site], a newly-released garden 'em up from the duo behind the lovely Little Party. When the weather's right, it's nice to sit back in a chair and simply enjoy your garden. You might almost forget it's not your garden, but one you're forced to grow as a prisoner during a fictional war.
I'm trying to grow a pleasing garden, and enjoy seeing it sprout. Dry spells, when water runs low, are stressful. When I finally triumph and raise a plant to its full glory, and my garden looks glorious, I am very pleased. Then people sweep in after I've left to harvest them. I'm disappointed every morning when I return to find bare soil in place of my pride and joy. But they're not mine, and I'm not here by choice.
Over the days and weeks, a visiting official lets on more of what's happening in the world around you, why you're locked away, and who you were before. I haven't finished A Good Gardener yet but suspect it's not a game to marathon, more something pleasant to return to when you want to potter and plant.
A Good Garden is out on Itch for Windows, Mac, and Linux. It'll run you about £4.
Do also check out Little Party - I'm tickled pink that it took me just as long to write about that as it took creators Ian Endsley and Carter Lodwick to finish another game.