A Throng Of Fire And Ice: Bound By Flame
The Heroric Age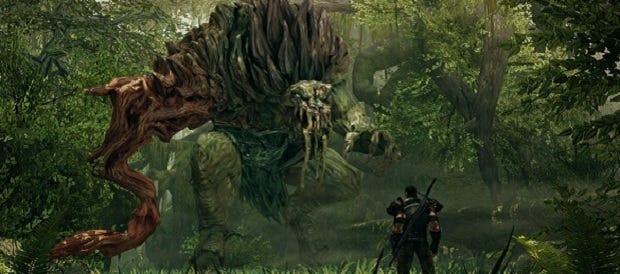 I've watched the latest trailer for Bound By Flame six times already and I'm still not tired of it. It does everything that an RPG trailer should, describing the game's features, and showing in-engine action to demonstrate how combat, inventory management and kissy-face interactions work. There's even a brief overview of the plot, which involves a mercenary possessed by a fire demon waging war against (as elementary luck would have it) seven Icelords. Three more and they'd a-leaping.
Sensible as the trailer's content is, that's not the reason I've watched it so many times. It's the voiceover. Performed by Stan S. Stanman's less flappy-armed cousin, Dan D. Danman, it's an absolute treat. Prepare for 'heroric abilities', 'plenty of pieces of armour' and 'fantastical enemies [that] will try to slow you down'. I hate being postponed!
The trailer coincides with the announcement that the game is coming to the third and fourth Playstations, but it'll be on PC as well when it arrives in the second quarter of the year. Developers Spiders have been talking about the difficulty of the combat recently:
In Bound by Flame, you better be prepared before you charge into a fight. Wait, no, scratch that. You'd better not charge into a fight at all. Sneak instead, booby trap the place, or fireball the hobblers to pieces. That's what I'd recommend. Well, that's how I would do it, anyway, but I guess that's because I'm a chicken. Don't get me wrong, this isn't an infiltration game, it's just that we've made the fights hard and demanding. It's no walk in the park.
Although the trailer only shows one model for the player character, customisation will stretch to a choice of man/woman at the very least. Hopefully there will be plenty of heroric hairstyles as well.