A Weeping Song: After To The Moon, A Bird Story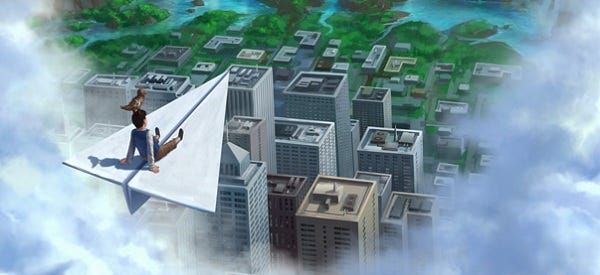 One of the best games of 2011, To The Moon, has finally had its sequel announced. Called A Bird Story, developer Kan Gao explains to us that it should be out some time around the Summer. This is what we experts call GOOD NEWS. *KRRRRKKKKKKKBZZZZZZTTTCHHHHHHHRRRKKKK* I interrupt this transmission from the Walkerdome with my own signal, cutting through like a blade of static and infoburst. I am the moon.
A Bird Story is a simple, surreal short about a boy and a bird with a broken wing. Despite being story-based like most of my games, there are essentially no dialogues throughout.
Well, that definitely won't tug at my heartstrings then. Not that I have heartstrings. I am the moon. I will admit that the music, which you can hear below, did cause me to fight back a lunar-tear or two.
A Bird Story is a short narrative and may act as a bridge between To The Moon and the eventual direct continuation of its narrative.
While Dr. Watts and Dr. Rosalene aren't in this game (chronologically, it takes place before their time), the boy in it eventually grows up to become their patient in "episode 2″ of the series.
When I illuminate the sky tonight, do say 'hello'. Unless I look like I slept on the dark side of my bed, in which case best to leave me alone. I sometimes bite.