A2OA Compo: Winners And Postponement!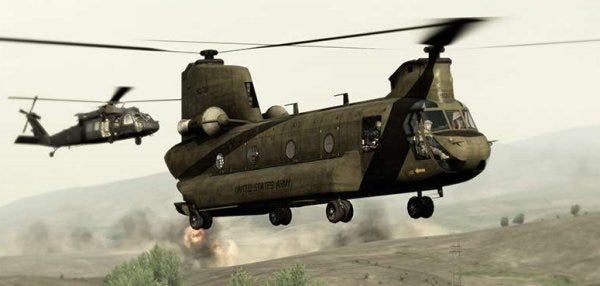 So, the hurrah/bah list for this competition. Hurrah: winners of the Arma 2: Operation Arrowhead competition will be receiving their codes and links this afternoon. Bah: We're going to have to postpone the actual co-op game until the 29th of August, despite having asked everyone who be available tomorrow. Hurrah: That gives you all some time to practice. Bah: But perhaps some folks will be busy that weekend.
Anyway, read on below for more information and winners.

If you've made the grade you'll be receiving a PM shortly with download details, but here's a list so you all know who you'll be fighting with:
LIEUTENANTS OF THE ROCK
Jim Rossignol
James Carey
PRIVATES
HexagonalBolts
Senethro
necromental
SteveTheBlack
The Tupper
Web Cole
Fringe
Dartt
Alexander Norris
Nilokey
orranis19
Buceph
Awcko
Gildron
Nullkigan
Frantics
Dr. Evanzan
DOS4GW
Jockie
darkrei9n
The Event itself will kick off at 2pm BST, but if at all possible try to arrive early so we can organise ourselves. The server will be up and running from 12pm BST on Sunday so we might just have time to get our act together before first contact...
The server itself is a 64 slot server donated by the super-cool and handsome chaps at www.JestServers.com so can accommodate those bright sorts who've already purchased Operation Arrowhead and want to join in the fun (though we'll be having a 24 player winners-only game first). Winners will get the server login details via PM on Sunday and we'll post them publicly soon after for the rest of you.
Remember, your performance on the battlefield will be judged and exceptionally worthy sorts who fling themselves on grenades to save a wounded dogs or similar could win the new British Forces DLC, T-Shirts or other ArmA 2 goodies.
So, congratulations winners! See you Sunday. Come with courage in your hearts, tea by your side and if at all possible mics on your heads. We've got a war to win.