Abzu developers announce The Pathless
Ooh!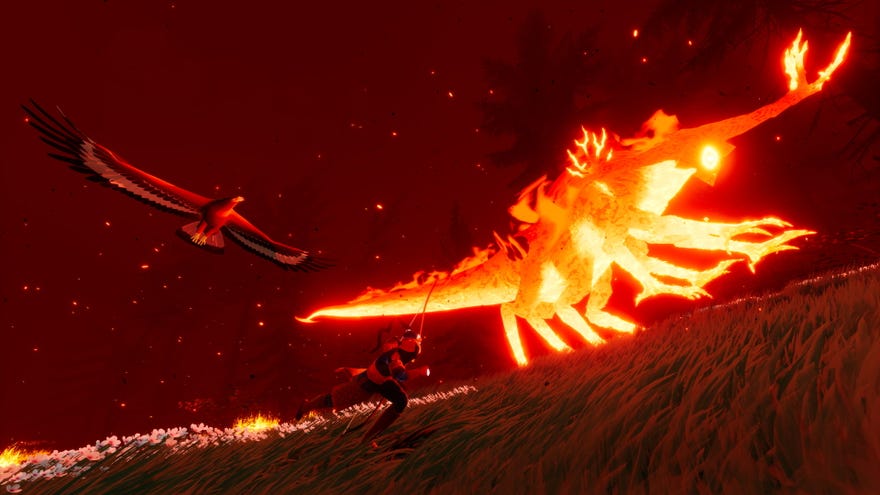 After sending us down into a colourful ocean with Abzu, developers Giant Squid will have us dashing and gliding through a moody forest in their next game, The Pathless. It looks like another joyous celebration of movement and nature, only with a bit more murder aimed in the direction of giant beasties. I know this comparison is overplayed but: bit of a smack of Shadow Of The Colossus. The Pathless is due in 2019, so for now let's enjoy the announcement trailer.
I have indeed enjoyed that announcement trailer. Looks cracking.
The blurb further explains:
"Become the Hunter, a master of archery who travels to a mystical island to dispel a curse of darkness that grips the world. Forge a connection with your eagle companion as you hunt corrupted spirits, but be careful to not become the hunted yourself. Explore misty forests full of secrets, solve puzzles in ancient ruins, and test your skill in epic battles. The bond with your eagle and the fate of the world hang in the balance."
I'm more worried about my bond with my eagle, to be honest. I will protect you, bird friend.
The Pathless is another game that publishers Annapurna Interactive are bringing exclusively to Epic's new games store. Whether that's exclusive forever or only a while, we don't know. Another of those Epic scloosies is former PlayStation exclusive Journey, which Giant Squid co-founder Matt Nava was actually art director on back in the day.
Tonight's announcement came in The Game Awards, the 'Oscars but video games' marketing-o-rama where actually this moment was pretty cool, SonicFox is great.