Epic to launch their own Steam-rival store, cutting a better deal for devs
Yet another place to spend far too much on games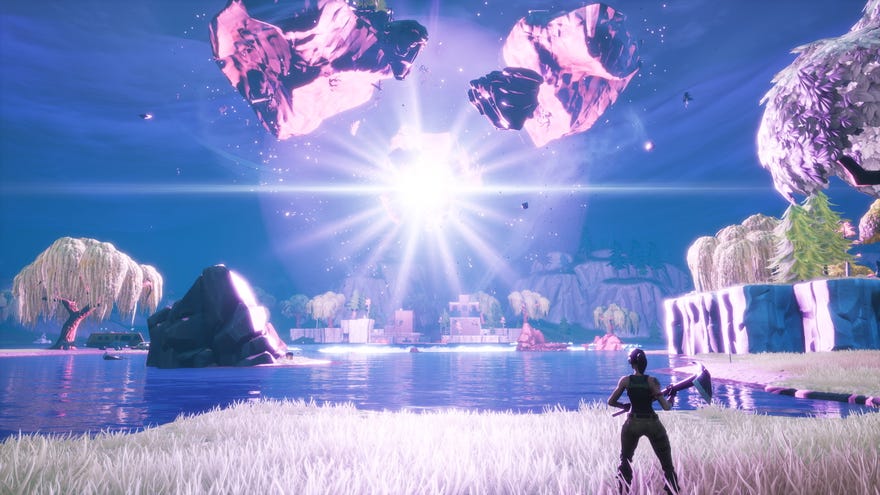 In especially well-timed fashion, Epic Games - they of the Unreal Engine and Fortnite - have announced they're going head to head with Steam with the Epic Games Store. The new storefront will open via web and the Epic Games Launcher before the end of 2018. Enticingly for developers, Epic have announced that they'll only be taking a flat 12% cut of revenue, less than half of Steam's 30%. This announcement comes days after Valve underwhelmingly announced they'll slightly reduce their cut, but only for multi-million dollar hits.
While Epic's deal for developers is better than corporate rivals, it's worth nothing that the indie-focused Itch allows developers to choose their own cut. Still, few other companies are as well positioned as Epic to provide real competition to Valve, as the Epic Games Store will be available through the existing Epic Games Launcher. That launcher is on countless computers already thanks to Fortnite Battle Royale's free-to-play proliferation. The store will also support mods, non-commercial games and free-to-play stuff, as Steam does, and DRM is entirely optional.
In an interview with Epic head Tim Sweeney, Gamesindustry.biz asked how this new store planned to curb the kind of abusive behaviour we've seen elsewhere. The response is simple, but heartening - no forums, opt-in user reviews (so no review-bombing) and official channels for submitting feedback and bug reports to developers. Studios are free to run their own community spaces and link to them on the Epic Games Store if they so please. They also have a generous refund policy outlined - a no-questions-asked chance to return a game within 14 days.
While much is answered in this interview with Game Informer, I have my own questions about the new store. Epic have announced that they'll be opening with "a hand-curated set of games on PC and Mac". Right now there's no formal process for getting your games onto the store, although Sweeney states that they will "open the store up more widely in 2019". Good to hear, but I'd put good odds on the Epic Games store not supporting sexual content like Steam. I'm curious to hear what the company's policies will be on that front.
The market has been splintering for some time now, with even Discord and Kongregate opening stores in recent months. Epic leveraging their Fortnite-borne position and Valve's recent faux pas puts them on good footing, and if they really can offer a better deal for smaller studios, then Valve might finally have some competition. Let's just hope it's easier to get into Epic's store than the early days of Steam and its notoriously opaque approvals process. GOG confusingly rejected the brilliant Opus Magnum at first - even hand-picked curation can go awry.
There's no date for the Epic Games Store launch yet, but they plan on opening for business this year. Epic will announce more during The Game Awards on Thursday, December 6th. You can see Epic's official announcement here.