Into The Sea: An ABZÛ Gallery
Down here all the fish is happy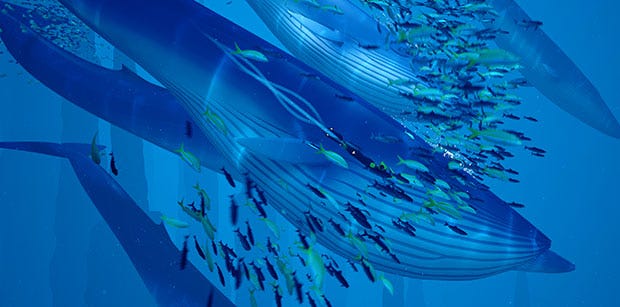 I know, you're all off exploring the stars, but please don't neglect the seas. ABZÛ [official site] is the most beautiful sight I've seen on my screen this year. I know it has its irritations - particularly, the controls leave my sense of tranquility battered and bruised - but nonetheless its explosion of undersea life and air of casual exploration pleases me enormously. I felt I should share some of the sights I saw with you.

Warning: includes visual spoilers for the events and escalation of ABZÛ. While there is a story, it's purely visually-told, so anything you see gives everything away. Even putting that aside, much of the joy is in the sights ABZÛ provides, and if you haven't played it yet and plan too soon, I'd stop after the first few screenshots. Conversely, the first few screens might just inspire you to pick up the game when you otherwise had not planned to. I'll leave an obvious note under the image before spoilers start, fear not.
These do not chronicle the entire game, just selected extracts from the main portion of it. Please note also that some of these screens have not come out quite as beautifully as I'd hoped, because fuck motion blur.
For the record, these were captured at 3440x1440 then downscaled to 620x260. I cannot tell you how incredible it looks at that full res on a 34" ultrawide, but sadly I cannot entirely show you. Hopefully this is a useful taste, though.
Hit the arrows above or below the image above to browse the gallery, or use the arrow keys on your very own keyboard.
VISUAL SPOILERS FOLLOW
EVEN MORE SPOILERS FOLLOW
There is more still, but another time, perhaps.
ABZÛ is out now.