Age Of Empire 2's Return Of Rome expansion adds every civilisation from the first Age Of Empires
Plus new campaigns, coming next month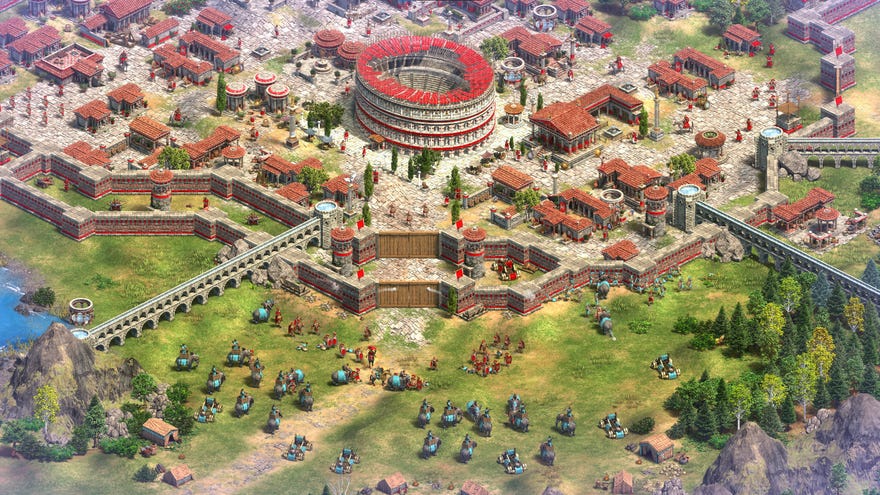 Real-time strategy game Age Of Empires 2: Definitive Edition is now exploring the series' own history with the Return Of Rome expansion pack, bringing back The Roman Empire and every other ancient civilisation from the very first Age Of Empires game. It's coming on May 16th, and it essentially lets you battle and conquer like it's 1998 again.
Return Of Rome (not to be confused with the original Rise Of Rome expansion) isn't fully integrated into Age Of Empires 2 proper, though. You can lead the Romans against the Aztecs and the other Age Of Empires 2 civilisations, but the rest of the expansion is somewhat self-contained. I'm guessing that balancing 17 playable factions and integrating them into AOE 2 was probably too much of a nightmare.
You'll instead be able to challenge friends with those original factions and battle through three new campaigns focused on the Sumerians, the Macedonians, and the Romans. There's also one brand new civilisation in the pack: the Lac Viet, which the team say they've added due to the original's "phenomenal popularity in Vietnam."
The final newbie in Return Of Rome is a game mode called D3. I love when developers integrate community-made rule sets into their games, and that's exactly what's happening here. This rule set was designed to reduce rush tactics, but it's now being officially supported as a proper mode.
Our Age Of Empires 2: Definitive Edition review called the original the greatest RTS of all time, and this new edition retains that quality. There was "no reason why Microsoft shouldn't just keep making this game bigger and bigger and bigger," which sounds like what's been happening with AOE 2 since. Over 20 years after its first release, Age Of Empires 2 is still going strong with a console port, new expansions, and now a pseudo-port of the original game. Very neat.
We already knew about the Return Of Rome pack, but we now have a new trailer (embedded above) and concrete details. If you like, you can pre-order the expansion now to get 15% off. Otherwise, it'll be available on Steam for £10/$15/€15 on May 16th.