All The Mass Effect 3 DLC Costs How Much?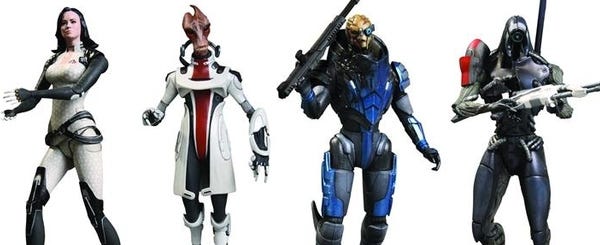 No. Nooo. Noooooooooooooooooooooooooooooooooooooooooo way. Destructoid writer but not X-Files creator Chris Carter (who is probably incredibly bored of that reference) has been doing a bit of maths, which immediately makes him a more capable human being than I am. The purpose of this mathleticism was to collate all the disparate bits of DLC, pre-order bonus, unlocks and whatnot available for the upcoming marketing monolith that is Mass Effect 3, and just how much it'd cost someone to lay hands on the whole shebang. Take a seat before you read the next line.
$870/£550/€650. Whaaaat.
It must, however, be pointed out that much of that horror-price stems from having to buy bonus code-sporting hardware such as special gamepads, keyboards and headsets, or Mass Effect 3 merch such as multiple action figures and iPhone cases.

And most of what it gets you in-game is just weapon variations, skins and multiplayer unlocks, rather than 'real' content. Not stuff you'll actually need, in other words, depending on how much you care about being King Big Balls in multiplayer. Apparently, each additional code you get for the Collector's Assault Rifle (available with assorted Razer hardware) further boosts its power in multiplayer, which makes for a fairly vague concept of completism and presumably suffers from diminishing returns.
Even so - this is a sign of just how darkly convoluted and fragmented modern gaming purchases have become. The full breakdown of all the DLC and the necessary purchases is over yonder.