AMD Radeon RX 590 review: A GTX 1060 killer?
The race for best 1440p graphics card just got a little hotter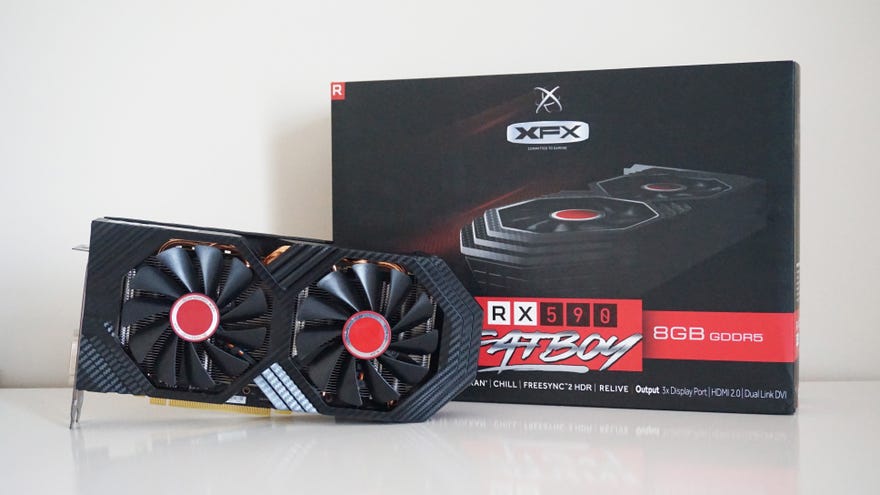 Well, this is a surprise, isn't it? After all the hoo-hah surrounding the new RTX graphics cards, AMD have gone and snuck in another mid-ranger right under our noses in the form of the Radeon RX 590. Alas, it's still not one of the long-awaited Big Navi GPUs everyone's been whispering about - it's fundamentally a Polaris card just like the rest of AMD's RX 500 family - but it is the first one to use a 12 nanometer (nm) manufacturing process, which AMD say gives it a 12% performance boost over the still very much alive Radeon RX 580. Let's take a look, shall we?
According to AMD, you see, there's a giant hole in mid-range graphics card land right now. You've got your Nvidia GeForce GTX 1060s and your AMD Radeon RX 580s down at one end in the region of £250 / $250 (which are still my two best graphics card recommendations for 1080p and 1440p gaming, by the way), and then there's nothing until you get to Nvidia's GeForce GTX 1070 and AMD's Radeon RX Vega 56 cards around the £400 / $450 mark. There are, of course, always going to be some cards lying on either side of those price brackets, but that's the rough average when you look at everything all together.
That's a big jump for what some might consider only a marginal boost in performance. Sure, the GTX 1070 and Vega 56 will do 60fps at 2560x1440 mostly at max quality or very well near it, while the GTX 1060 and RX 580 tend to max out around medium settings, but is that really worth another £150 / $200? After all, neither the GTX 1070 or Vega 56 are really quite good enough for gaming at 4K to any great degree, so the main benefits you're getting are mainly going to be felt at 1440p.
Enter the RX 590, the card that AMD are hoping will fill that gap and then some. Launching today from $280 (UK pricing is yet to be confirmed at time of writing), there will be four partner cards to choose from when buying an RX 590: one from Asus, Sapphire, PowerColor and XFX, the latter of which I've been sent for testing (and yes, that is a genuine and earnest use of 'FATBOY' on the box). What's slightly strange about the RX 590, however, is that even AMD have said that their main target audience for this particular card was those after max quality at 1080p, not 1440p. The RX 580 can already do all that, so where exactly does that leave the RX 590? The answer is, well, complicated.
In some ways, the RX 590 is a much clearer thing to understand than the confusing 3GB / 6GB and 4GB / 8GB split you get with the GTX 1060 and its RX 580 sibling. It comes with 8GB of GDDR5 memory straight off the bat (AMD have assured me there won't be an extra 4GB version further down the line), and its base clock speed starts at 1469MHz, which is a nice boost up from 1257MHz on the RX 580. Boost clock speeds will vary by manufacturer, but AMD's official specs list it at 1545MHz, which is once again a healthy increase over the RX 580's boost speed of 1340MHz.
Underneath all that, very little has changed. Sure, you've got more transistors thanks to that 12nm manufacturing process (the rest of AMD's RX 500 family are all 14nm cards), but the RX 590 still has the same number of compute units (36) and stream processors (2034) as its RX 580 sibling, and its memory bandwidth (that is, how much data it can process per second) still maxes out at 256GB/s, so it's not really the massive revolution in hardware some might have hoped for.
And yet, that small little speed bump might just be enough to push it in front of its main competition, Nvidia's 6GB GTX 1060. When I put the RX 590 through my suite of games benchmarks, for instance, there were several occasions where it came out on top - and sometimes by quite a considerable margin to boot.
Forza Horizon 4 was perhaps the RX 590's finest hour, as it managed a very respectable average of 73fps in its internal benchmark on Ultra settings at 1440p, and even a silky 62fps on Medium at 4K. The GTX 1060, meanwhile, only came in with 57fps on the former, and 52fps on the latter - not that that's anything to be sniffed at, of course, especially if you've got a regular 60Hz monitor, but petrol heads with higher refresh rate screens will definitely feel the RX difference here.
The Witcher III was another strong showing for the RX 590, although that's probably down to the fact it isn't having to deal with Geralt's fancy Nvidia Hairworks-ified mane. Still, the game felt infinitely smoother than almost every Nvidia card I've tested in recent memory, and it even managed a playable range of 38-47fps when I was poking about the forests of White Orchard on Ultra at 1440p.
This felt much more comfortable than the 35-40fps I managed on the GTX 1060 with the same settings, but dropping it down to High at 1440p was where the RX 590 really excelled. Here, the RX 590 was dipping either side of 50fps (46-56fps, to be precise) - something I'd be perfectly happy playing with if I didn't have a frame rate counter going in the top corner - whereas the GTX 1060 struggled to go much beyond a chopy 42-45fps, forcing me to knock the settings down even further to Medium before I got a comparable experience.
A similar thing happened in Monster Hunter: World, too. While Highest at 1440p is probably a little out of its depth, the RX 590 still put in an admirable 30-38fps out in the Ancient Forest, where as the GTX 1060 was stuck in the mud down at 25-28fps. Indeed, the RX 590 maintained its roughly 10fps lead over the GTX 1060 on every graphics settings at 1440p, producing between 44-52fps on High and 46-55fps on Medium. The same thing happened at 1080p, too, with the RX 590 slicing ahead with a range of 46-57fps on Highest over the GTX 1060's 38-42fps.
Elsewhere, however, it was a much more closely fought race to the top. In Assassin's Creed Odyssey, for example, both cards felt smoothest on Medium at 1440p, with the RX 590 coming in with an average of 53fps and the GTX 1060 with 55fps. Now, while that's technically a win for Nvidia on the frame rate front, the RX 590 was much more stable on the whole, only dipping to 30fps once during its internal benchmark run compared to half a dozen drops all the way down to 11fps on the GTX 1060. Whereas the GTX 1060's frame rate was yo-yoing up and down like ten thousand eagle dives, the RX 590 kept its cool throughout, which I'd argue is a lot more reassuring than a couple of extra frames.
It was much the same picture at 1080p, too. The GTX might have the edge on average frame rate, but it was the RX 590 that had the steadier hand. This may be because Odyssey has been optimized for AMD cards, of course, but even some Nvidia affiliated games played out better on the RX 590 as well.
Case in point: Shadow of the Tomb Raider. On Medium settings with SMAA anti-aliasing at 1440p, for example, the GTX 1060 produced a decent 38-50fps in the opening area of Cozumel Caves, and 42-46fps out in the crowded Cozumel town square. The RX 590, on the other hand, was way out in front with 52-64fps in the caves and 51-58fps in the square - something the GTX 1060 was only capable of achieving on Low at that resolution.
The difference was even starker at 1080p. On Highest with the game's full SMAA x4 in effect, the RX 590 coped with the cave's framerate-tanking textures beautifully, dipping to just 48fps with highs of 61fps. Over in GTX land, however, the framerate crashed to just 28fps and only ever recovered to a maximum of 42fps. Strangely, the GTX pulled itself together for an outing in the town square, its 36-41fps almost matching the RX's 37-45fps, but once again I'd rather have a card that's stable than one that's constantly scrabbling up and down trying to find a decent foothold.
That said, there were still a couple of occasions where the RX 590 simply couldn't compete with the GTX 1060, and that was chiefly in Total War: Warhammer II and Final Fantasy XV. Over in Warhammer land, they were pretty much neck and neck on everything except the key battleground of High at 1440p, where Nvidia scored a decisive victory with its average of 53fps over the RX 590's 43fps - something the RX couldn't match unless I dropped the quality down to Medium.
Similarly, while both cards managed around 44-50fps in Final Fantasy XV on Average at 1440p, pushing it up to High saw the GTX 1060 take another 10fps-odd lead, shifting up to 45-50fps with all of Nvidia's fancy effects turned off over the RX 590's rather choppy 33-37fps. The GTX 1060 had the upper hand at 1080p as well, easily hitting 50-55fps on Highest sans Nvidia effects compared to the RX's 45-51fps. Likewise, trying to turn on any of the Nvidia effects with the RX 590 (they still work to some extent on AMD cards, by the way), was like casting a Death spell on the framerate. No matter what quality setting I used, everything just plummeted down below 30fps the second I tried to use any of them.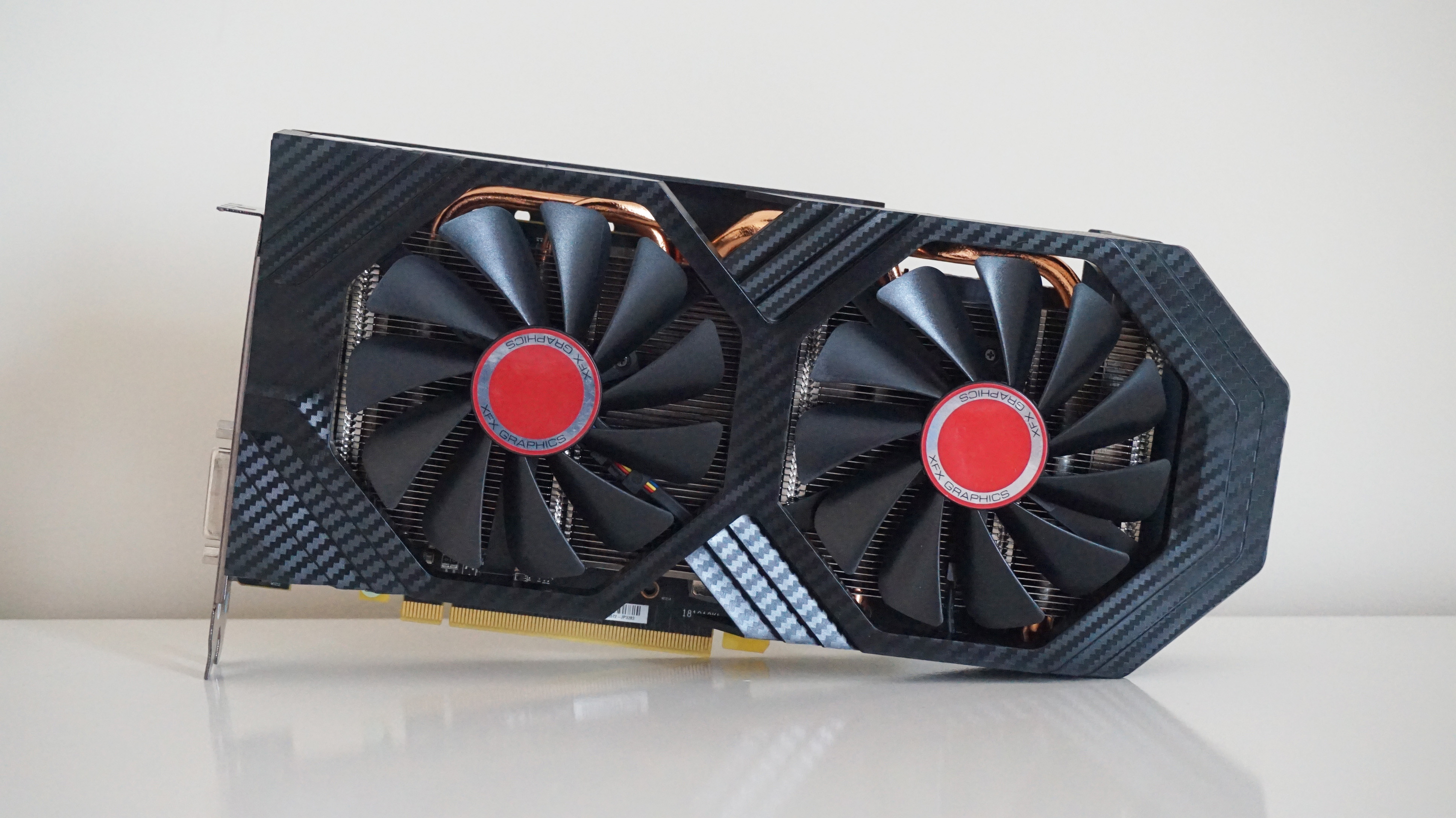 Still, as much as the RX 590 clearly isn't the best graphics card for Final Fantasy XV fans, the fact remains that, in most cases, it gives the 6GB GTX 1060 a real run for its money. Admittedly, it's difficult to do a proper price comparison at this precise moment in time, what with it being a week before the giant day o'deals that is Black Friday, but even if you can find a GTX 1060 for under $280 (along with a free copy of Monster Hunter: World, let's not forget), AMD have their own free game deal to help counter this.
Indeed, while its previous three free games deal was pretty great (*cough*Assassin's Creed Odyssey*cough*), the new one that's being bundled in with all RX 590 cards is arguably even better, as this one entitles you to a free copy of Devil May Cry 5, The Division 2 and Resident Evil 2 as and when each game gets released. That's pretty great value when all's said and done, and if I was looking for a graphics card for medium to high (if not max in some cases) 1440p gaming as well as flawless 1080p speeds for just under £300 / $300, the RX 590 would definitely be a top contender.
How it compares to the RX 580, however, is a little harder for me to gauge. While we have technically reviewed the RX 580, that was back when my freelancers and I were taking a no-numbers approach to graphics card testing (I know, how foolish). Likewise, as you may well have seen from its continued absence in all of my subsequent graphics card performance tests with Shadow of the Tomb Raider, Assassin's Creed Odyssey and Forza Horizon 4, it's been impossible to get another one back in for retesting. As such, I'm currently lacking any concrete RX 580 data to do a proper comparison with, although I will of course continue to do my best to get one in for that very purpose.
Still, once prices are back to normal post-Black Friday, I'd imagine the RX 590 will become a very tempting proposition indeed - a very niche proposition, all told, but a tempting one all the same. While there's not much in it when it comes to Medium 1440p performance, the RX 590 makes pushing into High settings or above much more viable than the GTX 1060 at this resolution, which for some will be more than worth any extra expense. It's still not quite good enough to worry the GTX 1070 or GTX 1070Ti on this front, but its lower price makes it a lot more compelling for 1440p seekers.
If you're still knocking around 1920x1080, however, the RX 590 doesn't really have that much more to offer in terms of 60fps performance beyond a bit of future-proofing for when you eventually decide to upgrade your monitor's resolution. Instead, you might as well save your pennies and get either the RX 580 or GTX 1060 if you can find one for less, or go for the even cheaper Nvidia GeForce GTX 1050Ti if you're not particularly fussed about having max graphics quality.
For those with their eyes firmly on near-perfect 1440p performance that doesn't cost the earth, however, the RX 590 is well worth considering.