AMD's Ryzen Mobile chips are finally coming to laptops
Ryzen to the occasion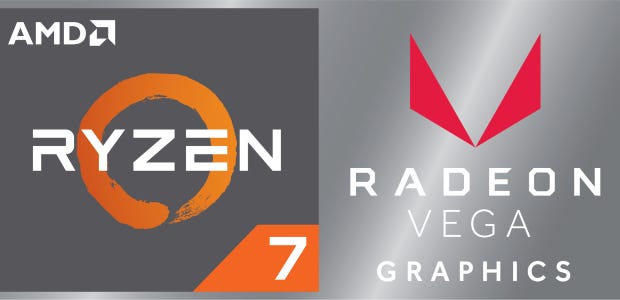 AMD have been making quite the comeback of late. First came their Ryzen desktop processors - which are pretty darn great compared to their respective Intel competition. Then, they went after Nvidia's GTX 1070 and GTX 1080 graphics cards with their trio of Radeon RX Vega chips. Now, it's time for AMD laptops to get a look in, as Ryzen Mobile is finally here.
Launched today, AMD is kicking things off with two Ryzen Mobile chips for now - the Ryzen 7 2700U and the Ryzen 5 2500U. Combining the best bits of both its Ryzen CPUs and Vega graphics tech in a single chip, these two processors should give laptops and ultraportable devices a huge boost in power, particularly when it comes to games.
Naturally, the quad-core 2.2GHz Ryzen 7 2700 U is the beefier of the two chips, with AMD saying it's the world's fastest processor for ultra-thin laptops. To put that into perspective, it has supposedly 44% more multi-threaded CPU performance and up to 161% more graphics performance than its competition, namely Intel's top-end Core i7-8550U and i7-7500U chips, potentially making it a mean multi-tasker and on-the-go gaming machine.
The Ryzen 7 2700U should be a huge step up from AMD's previous mobile chips, too, with up to 3x more CPU performance and up to 2.3x the GPU performance all while being 58% more power efficient. Of course, we'll have to wait and see whether that pans out once we get them in for testing, but with support for HDR, FreeSync 2 and 4K monitors, it certainly sounds like a fine bit of kit.
Less was said about the Ryzen 5 2500U, being slightly less impressive than its world record-breaking sibling, but this will also have four cores at its disposal for efficient multi-tasking, along with a base clock speed of 2.0GHz.
Laptops with both chips will be arriving shortly, too, with machines from Acer, HP and Lenovo all due to arrive in the coming weeks, with Dell and other OEMs to follow in early 2018.