American McGee's Alice sequel pitch rejected by EA
He's stepping away from game development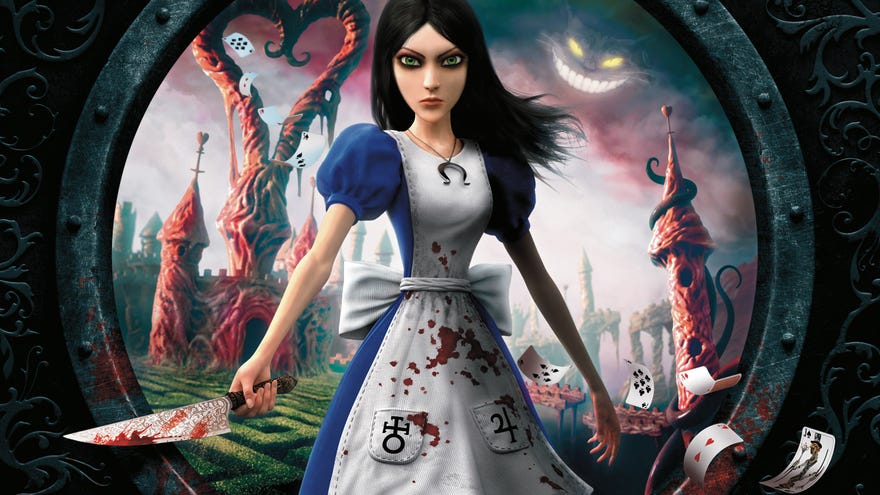 For the past several years, American McGee has been crowdfunding efforts to produce a third entry in his series of action-horror games inspired by Lewis Carroll's Alice's Adventures in Wonderland. Those efforts produced a 414 page design bible for "Alice: Asylum", which McGee used to pitch the project to rights-holders Electronic Arts.
McGee says that Electronic Arts have decided to pass on the project. As such, McGee says he has "reached an endpoint with 'Alice' and with game production in general."
McGee had pitched to Electronic Arts to secure the "funding and/or licensing" required to make Alice: Asylum. The pitch included not only the story, concept art and design bible created via the Patreon, but a production plan that laid out a schedule, budget and team for the new game.
EA, for their part, have allegedly passed on funding the project "based on an internal analysis of the IP, market conditions, and details of the production proposal," according to McGee. They're also unwilling to license the IP.
"For my part, I have also reached an endpoint with 'Alice' and with game production in general. I have no other ideas or energy left to apply toward getting a new Alice game made," writes McGee in the announcement on Patreon. "Nor do I have any interest in pursuing new game ideas within the context of the current environment for game development."
He goes on to write that if someone does convince EA to make a new Alice game in future, he has "no desire to be involved."
McGee started his game development career at Id Software and worked on Doom 2, Quake and Quake 2, before being fired in 1998. He later joined Electronic Arts, where he was creative director on American McGee's Alice, released in 2000. He then founded Shanghai-based studio Spicy Horse and developed a sequel, Alice: Madness Returns, released in 2011. In recent years, he has found success manufacturing horror-themed plush toys.
Although it seems Alice: Asylum will never become a video game, the design bible is available to download for free from McGee's Patreon, so you can see what might have been.