American Truck Simulator honking to New Mexico next
Steer clear of Roswell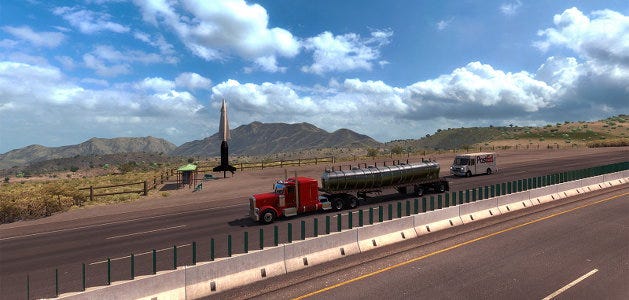 The next state being added to American Truck Simulator [official site] is New Mexico, developers SCS Software announced. The Land of Enchantment, locals call it. The Cactus State! Land of Sunshine! Mexico Plus! Mexico Gold! I Can't Believe It's Not Mexico! SCS's recent update upscaling the continent "transforms a great game into a sublime one", our Alec will tell you, and now they're done embiggenning SCS have moved back to expanding. No word yet on when New Mexico will arrive but SCS do share a few pictures to peek at for now (hit the announcement for bigguns).
A word of warning: don't accept trucking jobs from the Army round Roswell.
SCS don't mention whether New Mexico will be paid DLC or free. Back in January 2016, they only committed to California, Nevada, and Arizona being free, saying that "most further map expansion DLCs, if not all, will be paid." That statement is a year old, mind.
A whole lot of USA is still to come, even if SCS are knocking off some big states first. Last night's announcement says SCS are still expanding the ATS dev team to speed up development:
"At this moment, over 20 people focus solely on ATS development; an internal team plus a network of full-time contractors. Still it is not enough. We are well aware that the game's fans would like to see more content, more vehicles, more game features, more optimizations, faster progress. To make this possible, we keep growing the company - our vision is to at least double our production bandwidth for both American Truck as well as Euro Truck 2. We have been adding a few new people to the company pretty much every month during 2016, and we'll definitely keep on growing through 2017. All this new talent does and will make a difference that you should definitely notice."
SCS said in June 2016 that they hoped to two staff up enough to have two map design teams "working in parallel on growing North America both Northward and Eastward at the same time." I don't know if that's still the plan, but it sounds good.
New Mexico is eastward so oooh maybe Oregon northward next? I have mighty fond road trip memories of Route 101 along the Oregon coast. Sadly, American Truck Simulator is still cabin-bound so it can't replicate sitting around a campfire in sub-zero temperatures drinking whisky, toasting marshmallows, and tootling on tin whistles.