Archaica: The Path Of Light shines lasers into September
Laser logic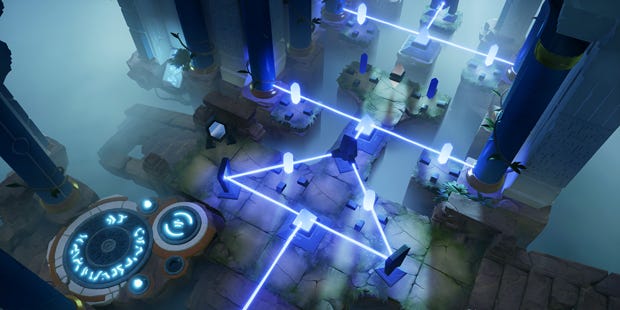 In a nice confluence of events I was wondering what had happened to laser puzzler Archaica: The Path Of Light [official site] which I wrote about years ago and a quick web search revealed that it's launching in a few weeks on 8 September and has a launch trailer!
I love me a bit of laser chess, and I really dug the laser puzzling of The Talos Principle so the prospect of a bit more laser manipulation is really... I don't have a phrase ready for this. Floating my boat? Tickling my pickle? Lighting the candles on my birthday cake? Pointing a laser at a crystal in a pleasing way? I'm pleased. That is what I'm trying to say.
The devs - Piotr and Marcin Turecki; two brothers working under the name TwoMammoths - say:
"Archaica: The Path Of Light is a visually stunning puzzle game with lasers and mirrors, that enraptures gamers not only with finely designed levels, but also with an interesting storyline. In this game we become the Chosen One from the nation that believes walking the legendary Path of Light will save the world from impending disaster. We revive ancient mechanisms, explore secrets of an ancient civilization, and discover the true destiny of The Path along the way through extraordinary realms."
Mostly I'm just hoping that the puzzles are satisfying. You need to place mirrors and other reflection and refraction devices in such a way that they illuminate all the crystals. You can find out a bit more about the mechanics on the official site but for me that feels a bit close to spoilers I'd rather keep away from until I can play.