Ark: Survival Evolved delayed to the end of August
Better late than unfinished? Ark has seemed unfinished...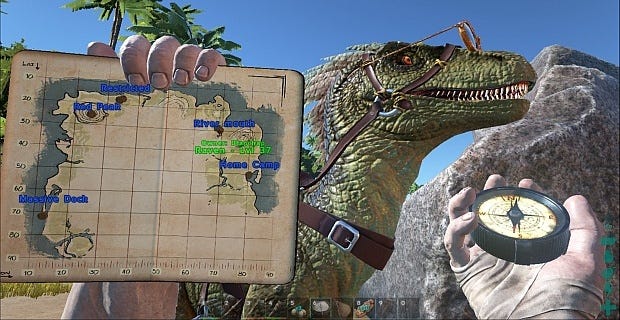 The dinosaur island sandbox Ark: Survival Evolved [official site] was due to leave early access and launch in full next week, but it won't. Developers Studio Wildcard announced over the weekend that they've delayed the launch from August 8th to the 29th, because things took longer than expected. That's game-making all right. Over the next few weeks, in the run-up to the actual proper launch for real, Wildcard and chums will be working on performance improvements, fixes for bugs and exploits, and more.
Wildcard apologised in Saturday's announcement for the delay and for how long it's taken to confirm this:
"As of today, ARK has completed its Gold Master and certification for retail release. This process took a little longer than expected and as a result, our release date has been pushed back to August the 29th. We're deeply apologetic for those who were negatively affected by the delay; it sucks, it wasn't what we had wanted, nor planned but where we currently stand. We wanted to address this sooner but did not want to make any statements until we were completely sure of what was going to happen."
What will they do with this extra time? Finish it, yeah?
One of Ark's biggest problems is still poor performance, and improving that is on the agenda. "We will be porting over a lot of the improvements we made on console," Wildcard say, "as well as working with our industry partners to bring up that PC performance to get you the best possible experience."
They're also making multiplayer bosses less ridicul-o-megahard, fixing the bug with gets creatures stuck in the juvenile stage and starving, stopping people getting under the world in the map The Center, deflecting DDoS attacks, fixing the duping update, and more. Ragnarok, one of Ark's official sponsored mods, will use this extra time to add features including a new area, a new boss, and support for bringing its creatures to other Ark lands. Check the announcement for full details on all this.
The pre-launch of Ark has been bumpy. Earlier in July, Studio Wildcard doubled the Steam price to bring it to the full launch price of £54.99/59,99€/$59.99. Only, it was still in early access and as wonky as an early access game. Wildcard said this was "to ensure retail parity for the upcoming launch" but, er, UK games shop Game were selling that for only £40. Wildcard had also considered wiping all servers, contrary to earlier statements that they wouldn't, but hastily changed their minds after talking to press and thinking about it a bit harder. You big sillies.
Anyway! Better late than unfinished? And Ark has seemed unfinished. But dinosaurs, yeah?