Boneheads: Ark Adds Pachycephalosaurus, Sea Living
A nasty dinobully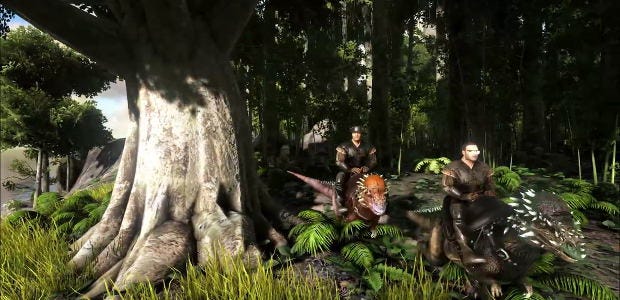 I'm fascinated by the process of bringing real things into video game systems, deciding how to classify them, which characteristics to represent, how they'll work, and how to make them distinct. The complex stats and balancing of virtual guns is perhaps the most obvious example, because video games, but I do enjoy seeing Ark: Survival Evolved [official site] do the same with prehistoric creatures.
Consider the thick-skulled Pachycephalosaurus, which scientists have theorised was into head-butting. Aye, but isn't that only a fancy attack animation for just another bipedal dinosaur? Right. Well. Let's game this up: they also have a 'charge' attack to even smash through buildings. Ah! Now that's a gamification I can get behind.
Pachycephalosaurus (Pachy, to his pals) arrived in the recent v207 update as a new dino for you to find, try not to provoke, and possibly tame. They're not massive - riders on them look a little comical, like Bernie Clifton wearing his ostrich trousers - but they do have that nasty charge attack, letting them smash into living things to daze them or into structures to smash them. The video showing them butting into other dinosaurs makes them look like playground bullies:
The update also added rafts and some wetwear for folks who want to abandon the land and return to the sea, as we all must eventually. Coming up this week are powered elevators and - gosh-o! - ballistas and turrets you can place upon the backs of huge dinos like roaming dinotanks. I'm sure there was a '90s toy line about that premise. Also 2000 AD series which may or may not have really been about the Royal Family.
Check the patch notes for more on everything.
Ark: Survival Evolved is still on Steam Early Access, where developers Studio Wildcard plan to keep it until a full launch on PC and consoles in June 2016. While many of its fellow multiplayer open-world survival games seem to have quickly slowed down development, Wildcard are ploughing on nicely. We recently had a quiet with co-creative director Jesse Rapczak about the game's development and future plans.