MMoh: Asheron's Call closing, D&D Online & Lord of the Rings Online leave Turbine
Grizzled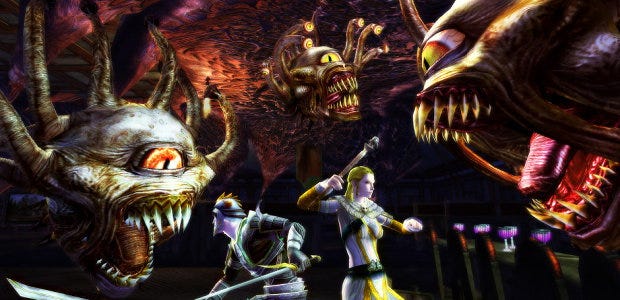 Oh! One newsbit we missed over Horacemas is the changes afoot at Turbine. The MMORPG specialists announced that they're closing down Asheron's Call, after seventeen years, and its sequel. Meanwhile, the teams behind Dungeons & Dragons Online and The Lord of the Rings Online have started their own new studio, Standing Stone Games, and taken the games with them. That leaves the remains of Turbine making... a Batman mobile game? Standing Stone plan to continue working on DDO and LotRO as before, though they've now teamed up with Daybreak Games Company (the former Sony Online Entertainment lot) to publish 'em.
Turbine, who are owned by Warner Bros., announced on December 20th that they'll shut down both Asheron's Call games on January 31st. The first launched in 1999, and the second in 2002. Turbine said:
"This decision did not come easy, and we know this is disappointing for many of you. This game is a labor of love, and it's not easy for us to bring it to an end.

"We have had a phenomenally long run; one of the longest in the world of MMORPGs, and that in and of itself is a spectacular feat. We are proud of our legacy, and the entire Asheron's Call team has been honored to adventure with you for nearly twenty years. We thank you very much for being a part of it."
As for Standing Stone, as an FAQ and their announcement make clear, it should continue merrily as before:
"We're embarking on an exciting adventure as Standing Stone Games, a newly-independent studio staffed by people who have been working on DDO and LOTRO for many years. The teams remain very much committed to both games and are thrilled to continue development and operations of these games as an independent studio. This is an opportunity for us to bring about our dreams while still working on two of the biggest licenses in video games. It's a huge honor, and for you this means your games will continue to grow and improve. We love to focus on games with a high level of depth and scope, and we can't wait to show you what the future brings."
That's Turbine basically gone then, isn't it? They were in clear trouble when Infinite Crisis, their DC Comics MOBA, shut down a few months after leaving beta (it was bland, is Wot Brendan Thought). They're not officially gone but I wouldn't be surprised to hear bad news. Shame.
Ta to the reader who pointed all this out.