Finite Heroics: Infinite Crisis To Close This Summer
Only just left beta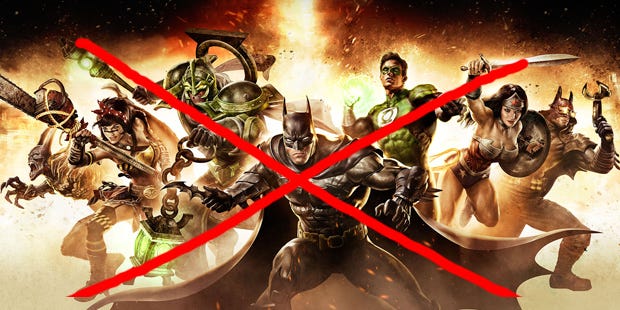 Infinite Crisis [official site] - the MOBA based on DC's comics multiverse - will close on 14 August according to a short blog post on the game's official site. The development team will be downing tools today, just over two months shy of the game's last day.
In the interim the game, which was being developed by Turbine, will still be available and playable free of charge with all characters and skins unlocked.
"After much deliberation, we regret to announce the official shutdown of Infinite Crisis. We will end development efforts today and will close the service on August 14, 2015."
The post goes on to say:
"This was an extremely difficult decision to make. On behalf of the entire Infinite Crisis team we want to thank all of you for your feedback, support and for joining together to create one of the best communities in gaming."
Infinite Crisis only left beta at the end of March. I'd installed it the previous year - possibly when it was still in alpha - but it never grabbed me. Part of that was because I simply didn't care about the various flavours of Batmen but the game itself didn't hook me. That was ages ago - a lifetime in game dev terms - so I was curious to hear what Brendy had to say when he took on the task of reviewing it.
Alas, his verdict ran as follows:
It is so by the numbers, it could be an abacus. Let's face it, the world already has Dota 2, League of Legends, Smite and a healthy smattering of others. As far as I can tell, it does not really want for more MOBAS. Or, if it does, it wants one with some refreshing quality that Infinite Crisis, like so many of the licensed phone-ins before it, doesn't provide.
There were some bright spots it sounds like - thorough tutorials which might be of real use to genre newcomers, for example - but ultimately the verdict was that it didn't differentiate itself particularly, plus the superheroes brought baggage and expectations which came into conflict with the genre's typical mechanics.
Several commenters pointed out that their experiences had been more positive but it looks like the game just didn't gain the traction it needed post-release.
In case you did play the game and are unhappy having paid for characters and skins, the Infinite Crisis team (or at least the person working their Facebook page) is advising players to contact customer support in order to discuss the possibility of a refund.