Assassin's Creed Chronicles: India Sneaks Out
New game, new movie snaps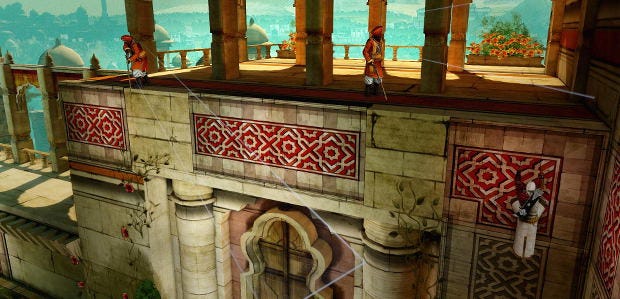 Think what you will about the wildly unconfirmed rumours of the core Assassin's Creed thread skipping 2016 (the RPS line is that they're a fun excuse for daydreaming about revamps), we're certainly seeing some Assassin's Creed games this year. The 2.5D spin-off miniseries Assassin's Creed Chronicles [official site] is one step closer to its conclusion, as ACC India launched last night. We've still got Russia to come.
Oh, and Ubi have shared the first stills from the upcoming Assassin's Creed movie and oh god of course it has a present-day plot strand too.
First, Chronicles: India! It's set in 1841, when the East India Company are stirring up all sorts of trouble. It's a 2.5D murderplatformer with a touch of stealth and, judging by the launch trailer, a whole load of explosions. It's £7.99 from Ubisoft and on Steam (where, yes, it requires a Uplay account - and yes, I know you have feelings about that, please know that I know and stop shouting outside my office window).
As for the movie, Ubi's blog has full size versions of three stills. Look at these murderpals:
But waaaiiit that's also Michael Fassbender in the present-day, oh god he plays both a 15th-century Assassin named Aguilar and some chump named Callum Lynch. Look, he's written the names of all his murderpals over his prison cell walls, which is a sure sign kooky shenanigans are afoot. Gosh, I find the ancestral memory strands of Assassin's Creed so, so awful. Partially because Ubi will seemingly never take them to their logical, desirable conclusion of Assassin's Creed: Cyberfuture. Is the near-future framing there because Ubisoft believe that you, dear reader, are incapable of understanding jump cuts, time shifts, and multiple protagonists within a series?
Anyway, look how much this man likes murder:
Movie's due in December.