Assassin's Creed Origins system requirements leap out
Same as Syndicate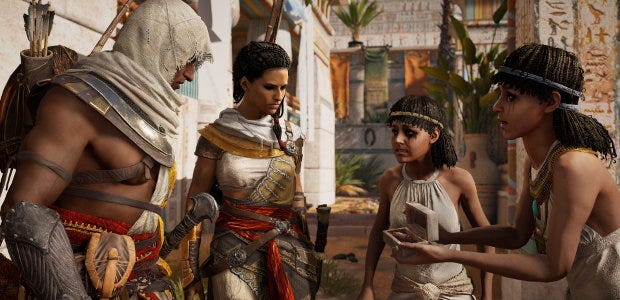 Seeing as Assassin's Creed took a year out between Syndicate and Assassin's Creed Origins [official site], will your PC need to hurdle an extra year's tech to play this new one? Nope! Ubisoft have confirmed the system requirements, and they're the same as Syndicate demanded. Ubi also gab about PC technobits including making a proper go of keyboard and mouse controls, a built-in benchmarking tool, and options for dynamic resolution scaling to keep framerates stable (or not, if you don't want it).
The PC version was "developed in parallel with all the other versions by the main team in Montreal, in collaboration with our PC-dedicated team in Ubisoft Kiev", producer Jose Araiza said in the announcement, "making PC and mouse-and-keyboard controls a full part of the equation from the get-go." Anyway, the specs:
Minimum configuration

Processor: Intel Core i5-2400s @ 2.5 GHz or AMD FX-6350 @ 3.9 GHz or equivalent
Video card: Nvidia GeForce GTX 660 or AMD R9 270 (2048 MB VRAM with Shader Model 5.0 or better)
System RAM: 6GB
OS: Windows 7 SP1, Windows 8.1, Windows 10 (64-bit versions only)
Ubisoft say such a system will run Origins at 720p resolution with the lowest quality graphics settings. Technically playable.
Recommended configuration

Processor: Intel Core i7- 3770 @ 3.5 GHz or AMD FX-8350 @ 4.0 GHz
Video card: Nvidia GeForce GTX 760 or AMD R9 280X (3GB VRAM with Shader Model 5.0 or better)
System RAM: 8GB
That'll run Origins in 1080p at Highest settings. If your PC is faster than that, if you've filled its guts with so much silicon that sand dunes are forming beneath the fans, it will be able to run Origins in higher resolutions at faster framerates. It does also support supersampling, the option to make it render in a higher resolution than your screen supports then downsizing it to look mighty smooth.
Or, on the flipside, the resolution multiplier option will let folks with slower PCs upscale the game to fit their native resolution. Or the game can automatically downscale its internal render resolution, making it less pretty at times but keeping a steady framerate. Ubi explain:
"As on other platforms, Assassin's Creed Origins on PC uses a technology called Dynamic Resolution Rendering that adjusts the resolution on the fly to ensure a framerate as close as possible to the targeted one - in most cases it's totally invisible for the user. On PC, On PC, players can actually choose what baseline framerate they want to target: 30, 45, or 60 fps. They can also select their maximum framerate between 30, 45, 60, or 90 fps, or decide to completely uncap it."
Yes, Ubi's PC FAQ makes clear, it is possible to disable this if you want.
Clearing up some other odds and ends... multi-card SLI & CrossfireX support "might" be added after launch, it will support 21:9 resolutions, it won't use DirectX 12, it will have field of view options, and it will let players rebind keyboard and mouse and gamepad controls.
Assassin's Creed Origins really will launch for PC on October 27th, Ubi say. Maybe they actually will skip the traditional short-notice PC delay this time.