Scallywags! Assassin's Creed Rogue Announced For PC
I don't know why they didn't say this earlier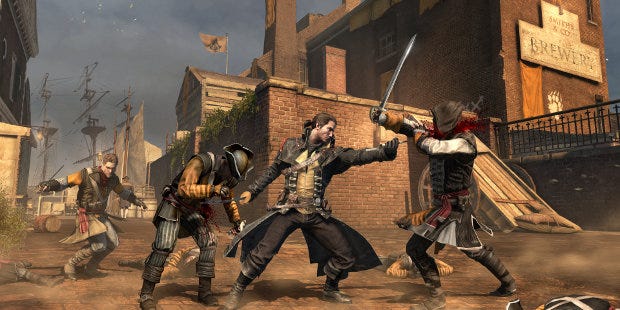 Oh, who even pretends to understand the whims and fancies of Ubisoft any more? By now, I assume their marketing plans follow prophecies and visions that CEO Yves Guillemot receives from a golden space apple alien holodeck cybergene memoryspine. There he is, in his office, rotating painting slices, sliding blocks, guessing passwords, until it finally clicks and summons a Roman space god.
"Don't announce a PC version of Assassin's Creed Rogue," Jupiter commands. "Not at first. No, wait two months then casually mention it when you release some trailer or other." Done and done!
Assassin's Creed Rogue is coming to PC in "early 2015", Ubisoft announced last night. Set between AC IV and III, the pirate and native american ones, it'll see former Assassin Shay Cormac turning Templar to hunt his former pals, bumping into characters from across the American subseries. Building on the AC4 base, it'll add things like rivers and Arctic waters to sail in, Assassins boarding you in ship combat, and an air rifle which can fire silent pellets or fancy ammo like firecrackers. Sounds like a Bash Street Kid's dream, that one.
Ubisoft announced Rogue for Xbox 360 and PS3 in August, giving those two consoles one last murderfest as they jumped to the shiny new ones with AC Unity. While a PC version seemed likely, Ubisoft kept shtum. I had assumed they would wait until after launching Unity in November, so as not to divide interest. Nope. I might now speculate that they wanted to milk Unity excitement then assure folks with older PCs that they won't be left out of stabbing faces just yet, but who even knows?
While the folks at series creators Ubisoft Monreal are focused on Assassin's Creed Unity, frequent collaborators Ubisoft Sofia are leading Rogue. Here, the story trailer announcing the PC port: