Astrologaster lets you gaze at the stars to find spoons
Using the movement of the stars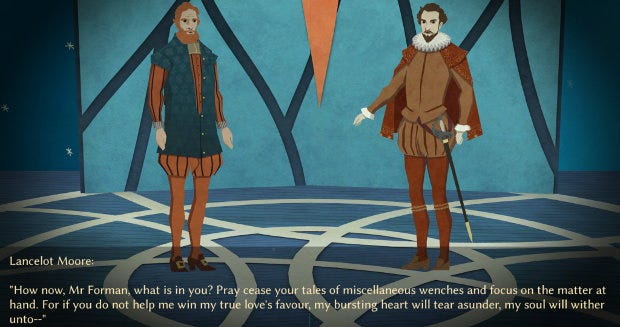 Simon Forman sounds like a swell guy. According to historical astrological comedy game Astrologaster [official site], "not only does he have the power to cure the sick, he can find their lost pets and predict their futures!". Unfortunately he has to contend with some mean spirited 'real' doctors, who presumably don't care for pets or precognition. Honestly, what's even the point of them?
Astrologaster will have you using astrological signs to solve problems big and small for Elizabethan Londoners, from stopping terror plots to finding people's missing spoons. It's all informed by the real life figure's casebooks, as dug up by the Casebooks project.
The actual historians have acted as advisers to the game, which make for high levels of historical accuracy. Apart from, you know, all the times Astrologising will work in the game when in reality it's done squat all. I do like the idea of solving the real life problems of people from 400 years ago, though I suspect there'll be at least some dabbling with how those cases turned out.
Throwing the astrology waffle at enough people will help to expand Forman's clientele, the goal being to "gain him enough influence and legitimacy to prove the London medical establishment wrong". Truly the most noble of aims.
Astrologaster is from devs Nyamyam, the same team that made Tengami [official site], an adventure game that takes place in the pages of a Japanese pop-up book. John loved the concept in his review, though thought it "barely realised, and clumsily implemented". Based on how busy it was at EGX, hopefully Astrologaster has managed to get more mileage out of a neat idea this time around.
Astrologaster is coming to Windows and Mac in 2018.