Asus' new TUF Gaming FX705 might have solved the great gaming laptop display problem
One TUF customer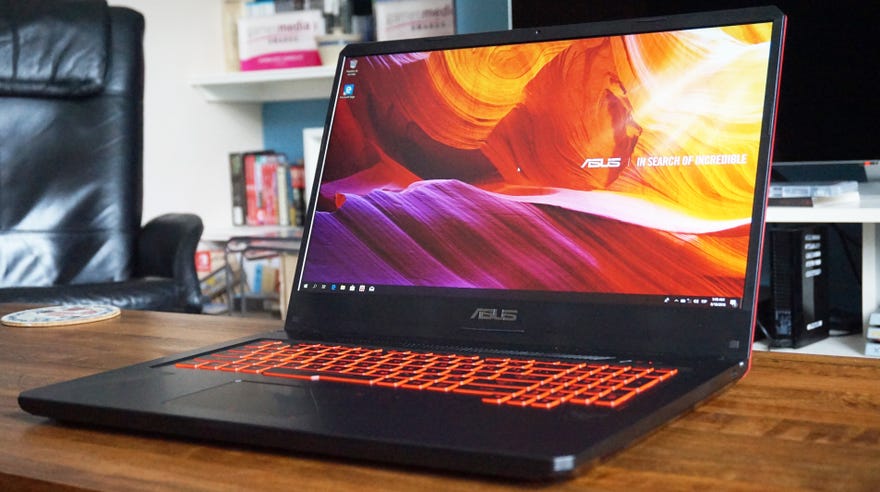 Until recently, Asus' TUF brand was reserved for its heavy-duty, military grade motherboards. Now, however, Asus have repurposed TUF for a new line of entry-level gaming doodads - not quite as swanky as its classic ROG series, but tougher and better built than your typical budget fare. To that end, Asus have announced a new pair of TUF Gaming laptops today, the 15.6in FX505 and the 17.3in FX705 - and I've been poking and prodding them in the flesh.
A world away from the luxurious, high-end premium type of gaming laptops like Asus' own ROG Zephyrus S, the TUF brothers are all about delivering core performance without breaking the bank - albeit still a fairly flush bank that happens to have at least £950-£1500 knocking around inside it.
The good thing, though, is that you still get many of the same high-end features you'll find on the more than twice as expensive Zephyrus S, just without the nice, super slim metal chassis and fancy rear venting system. These include 1920x1080 displays with lovely, high 144Hz refresh rates and 3ms response times, Intel Coffee Lake processors that go all the way up to a Core i7-8750H (the same as the Zephyrus S), and a choice of graphics chips ranging from the Nvidia GeForce GTX 1050 / 1050Ti to the Nvidia GeForce GTX 1060. You'll also be able to choose from up to 16GB of RAM (which can then be upgraded to 32GB) and a 256GB NVMe SSD and 1TB HDD.
That's not bad for a pair of mid-range laptops, especially when you remember the Zephyrus S maxes out at a GTX 1060 as well (at least in the UK). As a result, you're not actually getting that much extra benefit in terms of performance by shelling out a second bucket of cash on the TUFs' upmarket cousin, so those of you looking to make your money go as far as possible should definitely keep an eye on these when they launch in the middle of October later this year.
You don't even have to compromise by putting up with a giant, bulky chassis, either. With its super-slim bezels round the display and military-grade build quality, the TUF Gaming laptops are infinitely more appealing than other machines at this sort of price, such as the Acer Nitro 5 and Dell Inspiron G5 15, and aren't even that shouty about being a gaming laptop.
There's a small red trim around the edge of the display and a vague hint of a cross-like pattern going on around the lid, but otherwise it's actually fairly tasteful as gaming laptops go, and certainly a heck of a lot better than the swathes of camo pattern on Asus' higher-end Scar II and Hero II laptops.
Asus are confident their TUF Gaming displays will hit 100% of the sRGB colour gamut as well, which will probably be the biggest coup in gaming laptop history if it proves to be actually true once I can sic my calibrator on them. With other gaming laptops I've tested in this sort of price range, the display always tends to get hit hardest when it comes to overall quality, and most are barely able to cover 50% of the sRGB gamut, let alone anywhere near 100%. The FX705's display did look pretty decent when I saw it during my demo session, but I'll only be able to see just how good it is once I've got my hands on a review sample.
Asus TUF Gaming FX705 UK spec configurations confirmed so far:
Model: FX705GD-EW101T
CPU: 2.3GHz Intel Core i5-8300H
RAM: 8GB DDR4
GPU: Nvidia GeForce GTX 1050 (4GB)
Display: 17.3in 1920x1080 60Hz IPS-level panel, 7ms response time
Storage: Intel Optane 16GB, 1TB HDD
Weight: 2.7kg

Model: FX705GM-EW019T
CPU: 2.2GHz Intel Core i7-8750H
RAM: 8GB DDR4
GPU: Nvidia GeForce GTX 1060 (6GB)
Display: 17.3in 1920x1080 60Hz IPS-level panel, 7ms response time
Storage: 128GB SSD, 1TB HDD
Weight: 2.7kg

Model: FX705GM-EV101T
CPU: 2.2GHz Intel Core i7-8750H
RAM: 16GB DDR4
GPU: Nvidia GeForce GTX 1060 (6GB)
Display: 17.3in 1920x1080 144Hz IPS-level panel, 3ms response time
Storage: 256GB SSD, 1TB HDD
Weight: 2.7kg
Moving on to the TUFs' keyboards, you'll see that, unlike the Zephyrus S, they're back in their usual spots this time round, providing enough room for both a full-sized number pad on the side and spacious touch pad beneath.
It was perfectly pleasant to type on during my brief time with the FX705, but when I wasn't allowed to run any games or benchmarks during my demo session, I'll have to wait until closer to launch to find out how they hold up under pressure when rushing around knee-capping Hell Knights in Doom. You'll be pleased to hear, however, that its RGB backlight can also be set to a single shade of red (as shown above) if you'd rather not have it flashing away at you.
Launching in mid-October sometime alongside the Zephyrus S, the Asus TUF Gaming FX505 and FX705 could well be the answer to our mid-range gaming laptop prayers. If the screens are truly as good as Asus claim, they might just be two of the best gaming laptops ever made. Consider my fingers well and truly crossed.