Athlete's Fleet: Star Battle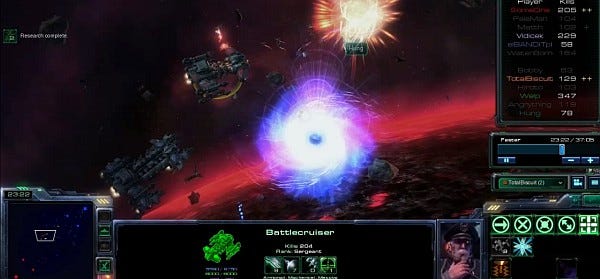 Question, hot shot. What's the most popular user-created map on the European StarCraft II servers right now?
I bet you have no idea. I bet a single bead of sweat just appeared on your forehead. Ah, youth! You're cute. Here's the answer: It's Star Battle, a 6v6 Defense of the Ancients-style mod that uses not fantastic heroes, but sluggish, superpowered space-ships. So, Defense of the... Space.. ncients? Anyway, it looks swell.

I stopped playing StarCraft 2 months ago, but if anything's going to lure me back, it's this. Just one of the nice twists is that cannon fodder AI creeps are actually spawned automatically by the players' ships themselves. But really, the ponderous, positioning-focused combat just looks like so much fun. Here, this is the video that brought Star Battle to my attention. You can skip straight to 2:20 to see some of that.
And in case you thought there was any getting away from StarCraft II's micro, here's a video on how to do some movement tricks.
Mmm, modding. Gaw' bless you, PC gaming. Here's the link to the Star Battle Wiki again. As for how to play it, simply search for it using Battle.net like you would a custom map. StarCraft II's Galaxy editor simply treats everything like a custom map, you know, which means you can download everything in-game with the greatest of ease.