Bloody beat 'em up/strategy hybrid Aztez out now
You hexy thing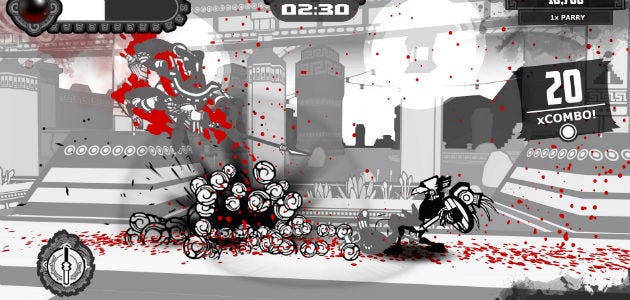 Aztez [official site] blends two genres that wouldn't normally mix: turn-based strategy and beat 'em up. The strategising happens on a hex-based map – you control an elite combat unit of the Aztec Empire sent out to kill "warriors and mythological foes alike". When you invade another tile it switches into real-time brawling, with a hand drawn black-and-white art style where there only colour is the red of your enemies' blood. And there's plenty of that.
It came out this week and it looks pretty promising, actually. Alec has played a bit of it for Unknown Pleasures and enjoyed the combat with all its flashy, fluid mid-air stabbing. But in case you missed that, here's a reminder.
Here's what Akec thought:
"I felt fairly alarmed during the tutorial, as it issued combo command after combo command at me, but in practice it's far more organic, learning what works against which foes and lurching happily out of your comfort zone once you've nailed the basics. And, when the fighting's done, it's time to nab some cities, play some cards and push back against the dastardly Spanish invasion.

"All told, a genre fusion that works very well. This definitely would have been raved about the world over a few years ago, but I worry about it getting lost in the noise now."
And it could well have been released a few years ago – Adam wrote about it way back in 2012 and it was initially due in 2013, but a series of delays pushed it backed to this year.
Since the launch trailer has been on this site before (it came three months before launch, for whatever reason), here's two minutes of "high-level play". So, basically what the game will look like at its best:
And here's the hex-based map, just so you get an idea of what you're dealing with. I quite like the art style of both the map and the combat, but then I'm a sucker for black and white design with the occasional splodge of colour
You can pick it up on Steam for £13.49/17,99€/$17.99, including a 10% discount until Tuesday.