Bargain Basket: Arcen games for the cheap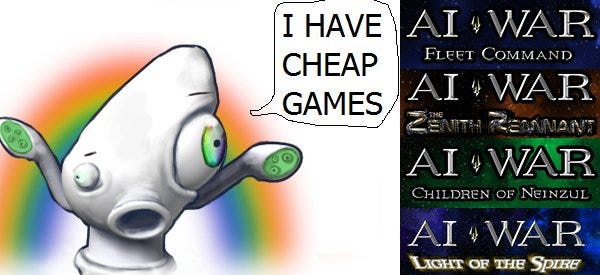 It's Saturday, so that means it's time for another.....Hang on, it's not Saturday! Never mind. The lovely folk over at Arcen games have just sent word that they are lopping off an entire 60% off all of their games. Not only does buying DRM-free direct from the developers come with a free warm fuzzy feeling deep in your belly, but in this instance you can (optionally) also use the code you get from Arcen to register the games on Steam if you prefer. Best of all worlds.
Here are the prices:
AI War: Fleet Command - £6.25/€6.32/$8
AI War: The Zenith Remnant - £3.13/€3.16/$4
AI War: Light of the Spire - £3.13/€3.16/$4
AI War: Children Of Neinzul - £1.06/€1.26/$1.60
Tidalis - £3.13/€3.16/$4
You can grab 'em all here, and you can read RPS coverage of them all here. The offer is available until the 1st of December, so you'll have to be quick.
Under no circumstances could I condone UK folk pretending that they live elsewhere and paying via paypal to avoid paying VAT.
Whilst I am here, I might as well remind you that it is the last day of the Steam Thanksgiving Sale. Highlights include the rather sexy Indie Air pack, Cold Beam's Beat Hazard, which lets you shoot your own music out of a spaceship, and the capitalizationally challenged DiRT 2. All for a bit of spare change.
If you want to always be abreast of video gaming discounts as and when they happen, make sure to spend every moment of your waking life on SavyGamer.co.uk.