BASS Fishing: Revolution Tease Beneath A Steel Sky 2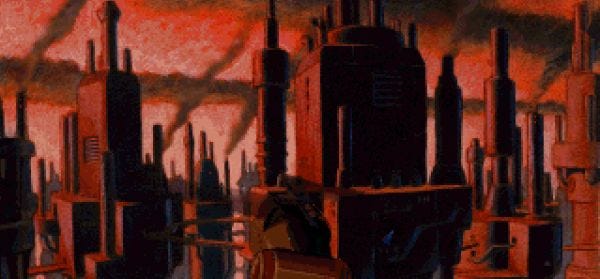 As we mentioned yesterday, Broken Sword developers Revolution reached their Kickstarter funding to make a fifth game in the series. And as expected, they later revealed their stretch goals. They're what you'd expect - a bigger, more elaborate game, more locations, more scenes, more puzzles, going up to an ambitious $800,000 - double their original target. But then at $1m, the top tier, there's a surprise. Greenlighting Beneath A Steel Sky 2.
Beneath A Steel Sky (BASS) came out in 1994, and is one of the most fondly remembered adventures of the era. With its iconic name, sounding like something Ridley Scott might have directed, it used the artwork of Watchman co-creator Dave Gibbons to create a dystopian science fiction future. And people loved it. And have loved it ever since, with the game's re-release on many occasions, not least when creator Charles Cecil released it as freeware in 2003, as well as actively aiding the SCUMMVM team to get the game working for the emulator.
Rumours of a sequel have circulated a few times in the past, with indications something might be happening in 2004 and 2006, and a remastered version of the original appearing in 2009 of iOS. But it's been quiet since then.
Now Revolution are saying that if they can more than double their Kickstarter pledges in the final two weeks of the campaign, that will be enough money to not only complete Broken Sword: The Serpent's Curse, but also greenlight production of BASS 2.
"So where can we take you after fulfilling our ambition? For many years we have wanted to write a sequel to our 1994 classic adventure. If we reach this goal we will start work on this exciting, much-demanded project, and implement Easter eggs in Broken Sword: the Serpent's Curse, offering a glimpse of this futuristic dystopia."
Whether they can get to such a massive total remains to be seen.