Batman & The Joker Are BFFs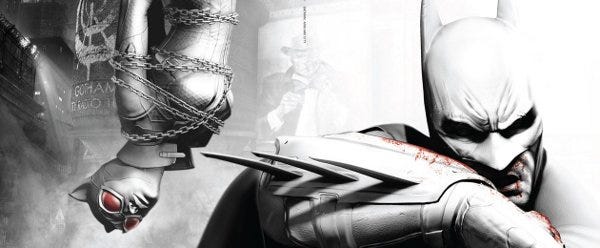 Quickly, Batchildren! A mysterious French internet online websitepage has a frustratingly unembeddable new trailer from Batman: Arkham City, which will almost certainly be dragged off into a dark alley and given a sound kicking by the dastardly Mr Embargo any minute now. It features Batman and the Joker working together (whaaaaaaaaat), in a "punching hulking goons in the teeth" sort of way. It looks, to coin a phrase, "tight."
Edit - there's some speculation this may be fake. Maybe it is! Investigating/being bewildered by the strange lengths people on the internet go to will be fun regardless. Dialogue and character models are apparently lifted from the first game, and could have originated from the Unreal SDK. What do you think, detectives?
Edit edit - Warner Bros confirm it's a fake. So there's that. Let's take bets on how long until it's pulled, and on what grounds.